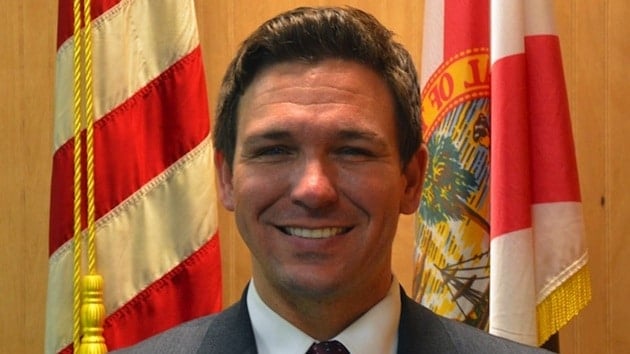 PONTE VEDRA BEACH, FL — Rep. Ron DeSantis, R-Florida, announced Wednesday that he will run in the open Florida Senate race to replace Sen. Marco Rubio, who is running for President. Rep. DeSantis, a 36-year-old Iraq War veteran and founding member of the conservative House Freedom Caucus, currently holds the House seat in the 6th Congressional District in the northeastern part of the state near Jacksonville.
"America needs a new generation of leaders to address the big issues facing the country: alleviating the middle class squeeze and promoting economic opportunity, confronting the significant national security challenges threatening the safety of our people, and reforming the culture of Washington, DC," said Rep. DeSantis. "As a candidate for Senate, I look forward to offering reforms based on limited government principles that will make our country stronger and more prosperous. I see a bright future for Florida and for America and my campaign will be about the ideas and principles that will help us achieve a more perfect union."
DeSantis also launched a new website, www.DeSantis2016.com to get a jump on others mulling a run, where Floridians can go to learn more about his candidacy. But, while it remains unclear how many primary opponents DeSantis will ultimately have, conservative groups have either endorsed already or expressed interest in his candidacy before he even officially announced.
"We're proud to support Congressman Ron DeSantis for the Senate in Florida," Senate Conservatives Fund President Ken Cuccinelli told PPD in an email. "He's a strong conservative, he has grassroots support, and he can win. If he is elected, he will stand up to the big spenders in both parties and fight to repeal Obamacare, balance the budget, and defend the Constitution."
PPD reached out to the Club For Growth, who has assigned DeSantis a lifetime rating of 95 percent. The Club had previously expressed support for a DeSantis run, and also will support his candidacy now that it is officially underway.
"The Club for Growth PAC strongly endorses Ron DeSantis for U.S. Senate," said Club for Growth President David McIntosh." "The Club's PAC endorsed Ron when he first ran for the House in 2012, and he has exceeded our expectations as a pro-growth lawmaker. He's fought for the repeal of Obamacare and worked hard to stop Washington's out-of-control spending. Ron DeSantis has been a courageous voice for economic conservatism in the House, and he's the best choice to carry on the great work that Senator Marco Rubio has already done in representing Florida."
If Republicans hope to keep control of the U.S. Senate in 2016, they can ill-afford to lose an open seat in a battleground state that has been trending Republican. According to PPD's senior political analyst Richard D. Baris, the editor of the number one election projection model on the Internet, this is good news for the GOP.
"Rep. DeSantis has the potential to put together both wings of the party and already enjoys decent name recognition in an important region of the state," Baris said. "If Republicans want to hold this seat, then they will have to drive up turnout and expand margins in districts such as the one Mr. DeSantis represents. He is a logical and principled choice, which should please all elements in the Republican Party."
Rubio, who had promised he would not seek both reelection to the U.S. Senate and the White House, was also the conservative choice against then-Republican Charlie Crist, the former Florida governor turned-independent-turned-Democrat. Rubio went on to destroy Crist in the Republican primary, but Crist broke his promise and ran against Rubio as an independent. Sen. Rubio prevailed in the three-way race by winning all demographic groups save for black voters.
Senate Conservatives are already moving to sure up support across the various wings of the Republican Party, which could serve to discourage others from jumping in to what could turn into a costly primary.
"We hope conservatives in Florida and across the country will quickly unite behind DeSantis because we believe he gives us the best chance in this race to elect a principled leader who will fight for our values," Cuccinelli said. "We will immediately begin raising money for the DeSantis campaign and plan to do everything we can to help him get his conservative message out and win this important race."
The Florida Senate race is rated Leans Republican on PPD's 2016 Senate Election Projection Model, though the GOP currently enjoys a mere 51 percent chance of victory.