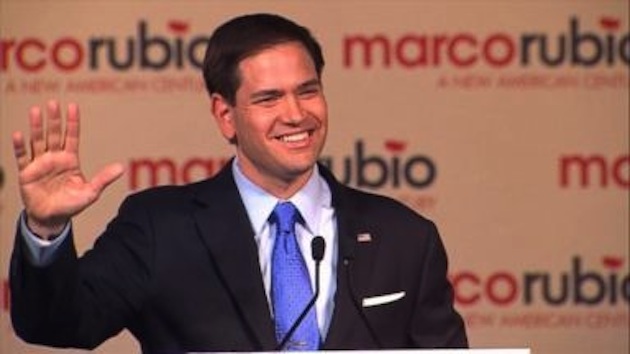 Sen. Marco Rubio, R-Florida, announced on April 13 that he will not run for reelection in the U.S. Senate and instead will run for president in 2016. However, first Rubio will have to secure the Republican nomination in a growing and deep GOP bench.
Here are a list of names representing Rubio's most influential political advisors and operatives who will help him get there. These early staffing moves from various candidates will all be introduced to PPD's viewers and subscribers in PPD's new series, Team 2016: Players, Pollsters And Pockets Behind The Campaign.
• Terry Sullivan, a top South Carolina political advisor and operative, will be Rubio's campaign manager. Sullivan's resume includes former operative and adviser to former Sen. Jim DeMint, R-S.C., as well as Rubio's allegedly long-shot 2010 Senate campaign. In 2011, he began to serve as deputy chief of staff to the freshman senator and, most recently, headed up Rubio's leadership PAC, Reclaim America. In the Palmetto State, his business partner was Warren Tompkins, who is now running the pro-Rubio super PAC.
• Rich Beeson, a known Republican operative and former political director for the Republican National Committee (RNC), will be Rubio's deputy campaign manager. Beeson founded a voter contact firm and served as political director for then-GOP presidential nominee Mitt Romney in 2012.
• Alex Conant, formerly Rubio's Senate press secretary, will move up to the role of communications director, though he has not made himself very available to PPD. He, too, has previous presidential election experience on his resume, though it was for a campaign that barely got off the ground. Conant worked on former Minnesota Gov. Tim Pawlenty's failed and short-lived 2012 campaign. But he does have a record of success in a state that will have the first say in the GOP nomination process and, ultimately, will become a swing state in 2016. GOP power-players we spoke to told us Conant was a invaluable asset to Sen. Joni Ernst in her successful 2014 race in Iowa against Rep. Bruce Braley. To be sure, Braley, a deeply flawed candidate only PPD's election projection model identified as an underdog early on, shoulders a good deal of the blame for losing the Democratic-leaning seat to the GOP in 2014. However, Conant was building relationships for Ernst that straddled the conservative and moderate wing in the first-in-the-nation Hawkeye State, which will no doubt become applicable to Rubio in the Iowa Caucuses.
• Brooke Sammon, Rubio's current press secretary in his Senate office, is staying in Washington, for now. But these are just the early staffing moves, and it would come as no surprise if Rubio decided to tap his skills and transition Sammon to the campaign.
• Jessica Ennis, another Romney campaign veteran, was brought in to be Rubio's political director. She left her role as the regional political director at the RNC to serve as deputy director of operations for Mitt Romney.
• Jim Merrill will be Rubio's go-to man in the first-in-the-nation primary state of New Hampshire. He was in charge of Romney's successful 2012 Granite State operation, which he perfected after his unsuccessful 2008 bid. Merrill is well-known and is equally well-respected in New Hampshire Republican circles. He is a senior adviser to Rubio's PAC and is not only the right man to lead Rubio's New Hampshire team, but his entire Northeastern GOP quarters.
• Alberto Martinez, Sen. Rubio's current chief of the staff, isn't yet officially on the team but is widely expected to join the campaign. Martinez has been one of the senator's most influential voices and is known for being a very protective gatekeeper. Martinez rose in Florida politics alongside Rubio, serving as communications director for the Republican-controlled statehouse while Rubio held the speakership in the Sunshine State statehouse. Whether the role is official or unofficial, Martinez will have an important one.
• Todd Harris, Heath Thompson and Malorie Thompson are all GOP political operatives who worked closely together on Rubio's 2010 Senate campaign. The three, along with another colleague not currently in the campaign, formed the consulting group Something Else Strategies shortly after that election. Harris worked for a number of high-profile Republican campaigns, including John McCain, Jeb Bush and Ernst. Heath Thompson, who orchestratted George W. Bush's South Carolina victory in 2000, also worked for Rudy Giuliani, R-N.Y., and DeMint. Interestingly, Malorie Thompson, who got married to Thompson after Rubio's 2010 race, kicked off her career working for Former Florida Gov. Jeb Bush, Rubio's friend and mentor. She has worked for several committees and on various Senate and gubernatorial campaigns.
There are several other names that are worth mentioning, in large part because they are either gearing up to officially join the campaign or play an important supportive role. Alex Burgos, another one of Rubio's main gatekeepers, serves as his communications director in the Senate, which is basically the same job he had during the 2010 campaign. Burgos is a liaison to the Spanish-speaking media, who will ultimately convey the senator's message to a very important constituency. For now, he is staying in the Senate.
The same is true of Todd Reid, who currently serves as Rubio's state director and, according to sources, will stay in that position. However, he is undoubtedly considered to be part of the inner circle and even helped plan his presidential announcement at the Miami Freedom Tower.
Meanwhile, every campaign needs a pollster, and that's where Whit Ayres comes in. Though the PPD Pollster Scorecard has not yet rated Ayres on accuracy, he is a highly-sought Republican public opinion consultant in the Beltway.
On the money end, Anna Rogers, who previously served as finance director at the Karl Rove's super PAC, American Crossroads, is set to be Rubio's finance director. Dorinda Moss will be Rubio's top finance consultant.
Conservative Solutions PAC will be headed up by Terry Sullivan's former Palmetto State business partner, Warren Tompkins. It is a smart and logical choice to tap the veteran South Carolina strategist who has a resume that includes a litany of presidential candidates, including George H.W. Bush and George W. Bush.
Jon Lerner will be a media consultant and pollster for Conservative Solutions PAC, while Jon Graham, a Republican fundraiser, will oversee the fundraising for the PAC. Jeff Sadosky, who has also worked for George W. Bush (as well as John McCain and Rob Portman), is in charge of the PAC's communications. Rubio has several big donors who have either indicated or pledged support for his White House bid, including Wayne Berman, a major Republican fundraiser and senior adviser at the Blackstone Group, and Miami auto tycoon Norman Braman.
Rubio has already begun to compete with his fellow-Floridian, Gov. Jeb Bush for big city donor money. He was the featured guest at Republican donor Paul Singer's place in New York a few weeks ago, which was attended by influential Republican foreign policy hawks. According to sources who attended the dinner, "people who walked out of the room were totally in love" with the Cuban-American senator, a clear sign the New York Jewish Republican donor class will support his personal campaign with big figures. Another possible are several members of the Fanjul family, who made a fortune in sugar. Along with Braman, the Fanjul family is a perfect example of the competition that will take place between Rubio and Bush.
While Sen. Rubio was the third Republican to announce his will seek the GOP nomination and the presidency, he is the first to be featured on PPD's Team 2016: Players, Pollsters And Pockets Behind The Campaign series, which will feature Sen. Rand Paul next, followed shortly by Hillary Clinton.