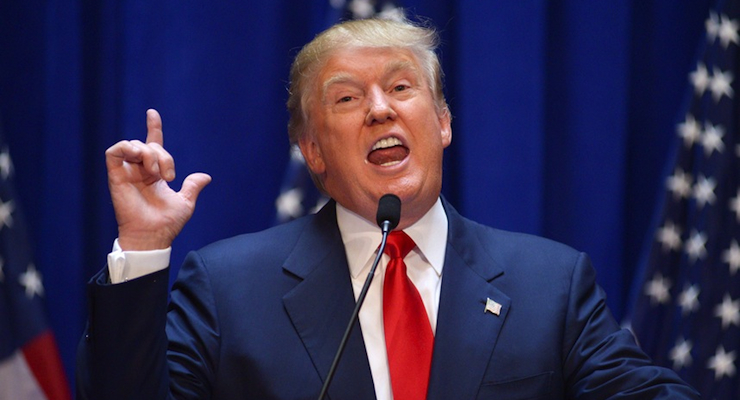 Billionaire real estate mogul and 2016 Republican candidate Donald Trump took to Twitter to rip former Govs. Rick Perry and Jeb Bush, who took issue with comments Trump made about illegal immigrants from Mexico during his announcement speech.
Rick Perry failed at the border. Now he is critical of me. He needs a new pair of glasses to see the crimes committed by illegal immigrants.

— Donald J. Trump (@realDonaldTrump) July 5, 2015
Perry, who launched a failed 2012 White House bid, took the media bait in an interview on ABC's "This Week" Sunday, unlike his fellow-Texan and presidential candidate Sen. Ted Cruz. During an interview with NBC, Cruz said he was not going to let the media get him "to engage in Republican-on-Republican violence."
Not Perry.
"I've said very clearly that Donald Trump does not represent the Republican Party. I was offended by his remarks," Perry said in an interview with "This Week" Sunday. "And to paint with that broad a brush, that Donald Trump did — I mean he's going to have to defend those remarks. I never will. And I will stand up and say that those are offensive, which they were."
While most pundits and analysts focus on the former Texas governor's debate hiccup — by hiccup, we mean forgetting the fourth government agency he would cut — his slide actually began with debate comments on immigration. Perry suggested that Republicans who do not support in-state tuition assistance for illegal aliens "don't have a heart."
I appreciate the GOP candidates who remain strong on border security. They know I am right. A nation without borders cannot survive.

— Donald J. Trump (@realDonaldTrump) July 5, 2015
Bush, too, chose to address Trump's comments during a campaign stop in New Hampshire over the weekend, stating he was "personally offended" by The Donald.
Jeb Bush will never secure our border or negotiate great trade deals for American workers. Jeb doesn't see & can't solve the problems.

— Donald J. Trump (@realDonaldTrump) July 5, 2015
Flashback – Jeb Bush says illegal immigrants breaking our laws is an "act of love" http://t.co/p8yFzVuw8w He will never secure the border.

— Donald J. Trump (@realDonaldTrump) July 5, 2015
Trump, who was characterized as not serious by self-described conservative commentators George Will and Charles Krauthammer, has been surging in the polls. According to the PPD average, Mr. Trump is now in second place in Iowa and New Hampshire, and about to move into second in nationwide nomination polls.