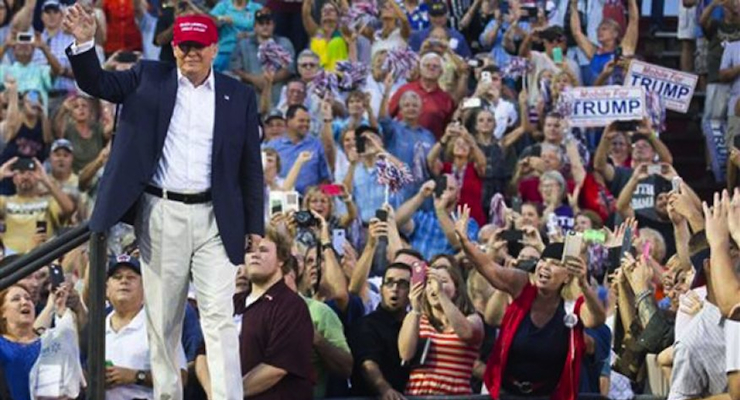 According to the Mobile Mayor Sandy Stimpson's office, a whopping 30,000 people showed up to hear Donald Trump speak in Mobile, Alabama Friday night. The crowd that flooded into the Ladd-Peebles Stadium is the largest of the Election 2016 cycle yet, topping the 28,000 who went to see socialist Sen. Bernie Sanders in Portland, Oregon.
The campaign originally planned the rally at the Mobile Civic Center, which holds about 2,000 people. But a booming interest in seeing the candidate speak caused them to change to the Ladd-Peebles Stadium, a 40,000-seat football stadium. The Alabama secretary of state's office said more than 30,000 were expected to attend the event Friday night.
The fans, some carrying signs, others wearing T-shirts supporting the billionaire businessman, spoke of his outsider status in a crowded field dominated by former and current elected officials as the song "Sweet Home Alabama" blared from loudspeakers. Trump was welcomed by numerous Alabama politicians, including GOP Sen. Jeff Sessions, who praised him for his courage to draw attention to the issue of illegal immigration. Trump recently released a 3-point immigration plan–with input from Alabama's favorite senator–which has been widely mocked by media pundits, including those on Fox News.
However, voters and experts gave the plan high marks. Polls released Wednesday found American voters strongly back The Donald's immigration plan, even his plan to end "birthright citizenship." Further, Norm Matloff, a self-described Democrat, professor at UC Davis and "longtime admirer" of socialist Sen. Bernie Sanders, gave the "surprisingly detailed" Trump immigration plan an A+ in a blog post Monday night. Matloff has written extensively about the failures of the H-1B visa program, which has been widely cited in the academic and reform communities.
Trump led off his speech with harsh criticism of U.S. politicians who allow illegal immigrants to live in the country. He drew a roar of applause when he again promised to build a wall on the U.S.-Mexico border.