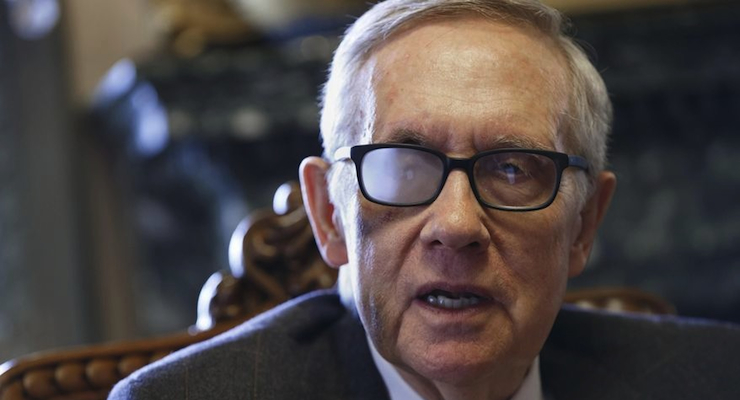 Senate Minority Leader Harry Reid, D-Nev., confirmed over the weekend that the Democrat minority will filibuster the bipartisan bill to reject the Iran deal. The statement by the outgoing senator follows three announcements last week that gave President Obama the 34 votes needed to ensure the agreement negotiated with Tehran would move forward.
"On the Iran Review Act and related resolutions, I recently informed Senator McConnell that after a period of robust debate, Democrats would be happy to proceed straight to a final passage vote that is consistent with Senator McConnell's many statements that important matters in the Senate have 'for quite some time required sixty votes,' Reid said in a statement. "The choice is up to him."
Retiring Sen. Barbara Mikulski, D-Md., pledged her support for the Iran deal Wednesday, which followed announcements from Sen. Chris Coons, D-Delaware, and Sen. Bob Casey, D-Penn., on Tuesday. According to PPD's latest count, there are 38 supporters–including 36 Democrats and two liberal-leaning independents–but the bipartisan opposition would need 60 votes to overcome a filibuster and 67 votes to override a presidential veto.
The president's negotiated agreement allegedly aimed at stopping Iran's nuclear program remains deeply unpopular with the American people. According to PPD tracking of the average of polls on the Iran deal, opposition has held steady since the president announced the agreement with the regime in Tehran. On average, 58% of Americans oppose the deal negotiated by the president and Secretary of State John Kerry, while just 29% on average support it. As we have repeatedly published, the reason for public opposition to the deal has been consistent and it is two-fold.
First, Americans do not believe Iran will keep their end of the deal and, second, they do not think that it will make the world and/or region a safer place. A whopping three-quarters (75 percent) of voters say Iran cannot be trusted to honor the agreement (75 percent), which includes almost all Republicans (93 percent), most independents (80 percent) and even a majority of Democrats (59 percent). Not only are American voters adamantly opposed to the deal but also the arrangement outlined by the Corker-Cardin bill.
The latest Rasmussen Reports survey finds that 66% of likely voters believe any agreement the Obama administration negotiated with Iran should require the actual approval of Congress. While that's nearly unchanged from July just after the deal was announced, only 20% now say they do not think the deal requires congressional approval. A stubborn 14% say they are still not sure.