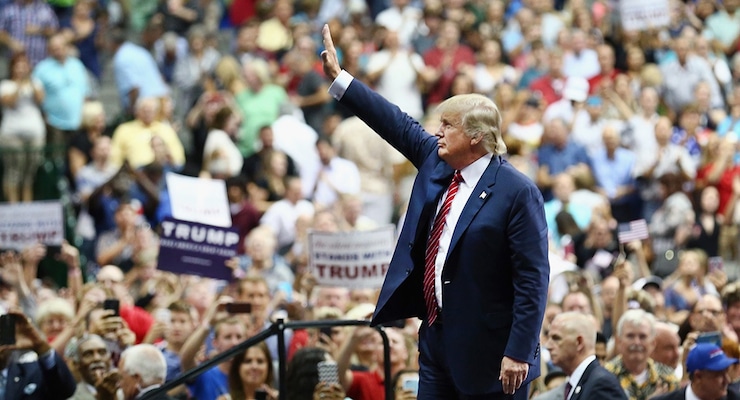 "Club for Growth Action is committed to exposing Donald Trump for the liberal he is on economic policy"
Club for Growth Action, a political arm of the Club for Growth, announced an ad buy in Iowa on Tuesday targeting Republican frontrunner Donald Trump. The ad campaign, which totals more than $1 million, features two 30-second television ads that will air on broadcast, cable and satellite television in the first-in-the-nation caucus state.
"Donald Trump is the worst Republican candidate on economic issues," said Club for Growth president David McIntosh. "It's astonishing that he's even running as a Republican. Trump is the most liberal candidate on fiscal policy in the whole field, with the possible exception of Bernie Sanders."
The billionaire real estate mogul currently leads his closest rival Dr. Ben Carson in the PPD average of polls taken among Republican caucus-goers in the Hawkeye State by roughly 7 points, 26.8% to 20.0%. Nationally, The Donald holds a much larger 16.4%. Whether that lead holds following the second Republican debate, as time draws closer to voting days or in the face of intense criticism, remains to be seen.
"His angry style may reflect the deep frustration Americans have with Washington leaders who have failed to keep their promises. But the policies he'd implement would benefit himself and his own interests, not the American people. That makes him the worst kind of politician."
In fact, the name of the first ad is entitled, "Politician," which ironically challenges Trump's entire campaign narrative. After rattling off a series of positions on the issues–such as health care, taxes and the Wall Street bailout–the ad narrator says the former reality TV star "is just playing us for chumps. Trump: just another politician."
[brid video="15288″ player="1929″ title="&quotPolitician&quot by Club for Growth Action"]
The second ad–entitled, "100%"–focuses on the Supreme Court's Kelo decision on eminent domain, which gave the government a massive, never before recognized new power to take private property and give it to corporations. For anti-crony, free market capitalists and economic freedom proponents such as the Club for Growth, the court's decision was a disaster. The ad highlights that The Donald said he "agrees with it 100%" during an interview on "Your World" with Neil Cavuto in July, 2005.
[brid video="15290″ player="1929″ title="&quotOne Hundred Percent&quot by Club for Growth Action"]
Thus far, attacks on Trump's past statements have had little impact on his standing among GOP primary voters. In fact, since candidates and their surrogates have begun their onslaught, the frontrunner has only widened his lead. Trump, himself, has likened himself to former President Ronald Reagan, the now-conservative standard-bearer who was once a Democrat. While it has satisfied voters, and even echoed by America's Mayor former NYC Mayor Rudy Giuliani, President Reagan's son has voiced his disagreement with the comparison.
"Club for Growth Action is committed to exposing Trump for the liberal he is on taxes, trade, health care, and eminent domain. These ads let Trump speak for himself, about his Democrat core and his full support for giving government the power to take private property and give it to corporations."