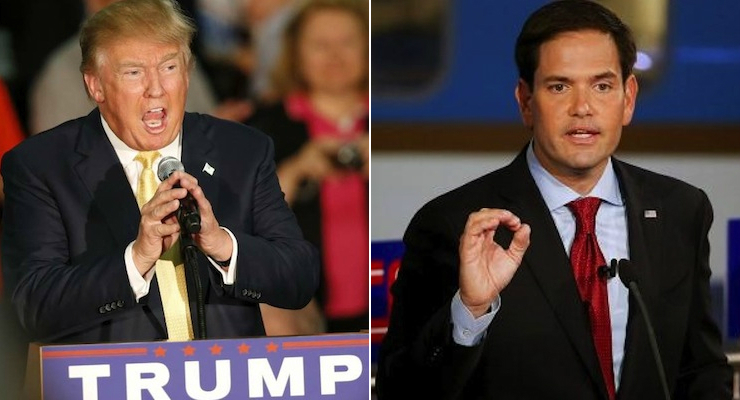 Trump Takes to Twitter to Rail Rubio
Billionaire frontrunner Donald Trump responded to a report that Sheldon Adelson is looking to back Florida Sen. Marco Rubio in the 2016 Republican nomination. Adelson, a billionaire Las Vegas casino mogul, is leaning increasingly toward supporting Marco Rubio, according to left-wing POLITICO.
Trump took to Twitter, as he often does, to say Adelson "feels he can mold him into his perfect little puppet. I agree!"
Sheldon Adelson is looking to give big dollars to Rubio because he feels he can mold him into his perfect little puppet. I agree!

— Donald J. Trump (@realDonaldTrump) October 13, 2015
It is no secret the junior senator is trying to win the financial support of other uncommitted megadonors, as well as those who are now backing fellow Floridian Jeb Bush. Adelson, who literally kept Newt Gingrinch competitive in the 2012 nomination fight against inevitable nominee Mitt Romney, has the potential to give tens of millions of dollars. He spent some $100 million that cycle in support of Republican candidates. Last week, Rubio held a meeting in one of Adelson's lavish offices at the Venetian Las Vegas, one of a number of five-star luxury casinos owned by the megadonor.
However, it is exactly that setting and scene that Trump has been able to capitalize on. The ability to self-fund his campaign has allowed him to genuinely claim he is the only one in the race that cannot be bought, prohibiting him from doing what he feels is the right thing for the country and the American people.