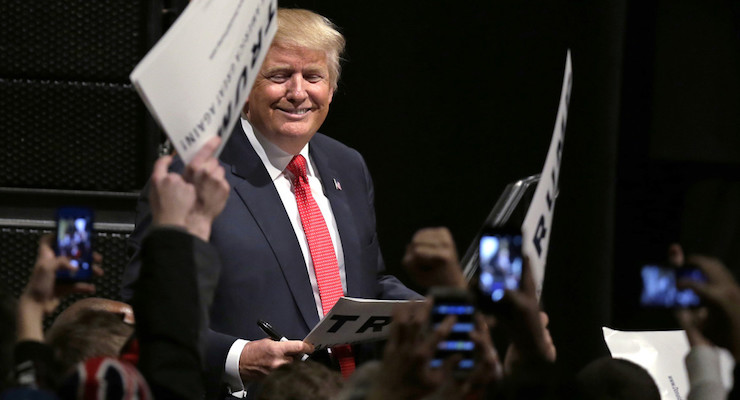 Donald Trump Holds Rally in Vermont City Where Socialist Bernie Sanders Served as Mayor
Burlington, Vermont. — Republican frontrunner Donald Trump on Thursday night held a rally in the very city that elected a socialist mayor named Bernie Sanders during the Cold War (1981). The campaign was forced to turn away thousands out of the 20,000 or so they claimed showed up to the event, as the venue capacity only held about 10% of that number.
PPD has not yet independently confirmed the number, but city officials did say the event was far beyond what the campaign suggested. At one point, Sanders' supporters who managed to get in were escorted out while Trump joked about not giving them their coats back.
"We all like Bernie. Do we like Bernie?" Trump said of the hometown senator. "Well if you want to pay a 90% tax. I would love to run against Bernie. That would be a dream come true."
We could only get a small fraction of this 25k crowd in. The movement to Make America Great Again is unbelievable! pic.twitter.com/NHPdGm57YJ

— Donald J. Trump (@realDonaldTrump) January 8, 2016
To be sure, the reaction from the uber-liberal residents in Burlington was mixed, despite the large crowd. Events that flowered from the rally included a "Love Trumps Hate" candlelight vigil along the road from the airport, a "Get Out Trump March" in the streets, a "silent presence" across the street, and a "Rally for Love and Unity" at a popular farmer's market.
The deli next door to Trump's rally advertised a special sandwich they called "The Donald," which bologna on white bread slathered with bacon slices, or B.S.
But The Donald may not just have visited the state for his ego or to stick it to Bernie, a name he mentioned more than a dozen times. Prior to the rally, Trump began airing ads on the Burlington-based television station WCAX, which is a media market that extends into much of northern New Hampshire. When asked about this, Trump campaign manager Corey Lewandowski told Politico that Trump was running "a different type of campaign."
Indeed, Trump clearly understands the Republican primary process more than the Establishment ever gave him credit for since he announced over the summer. Party elites have long-relied upon more moderate states to skew the playing field against conservative candidates, according to the People's Pundit.
Mr. Trump is using the rules of their own rigged game against the party elites," says PPD's senior political analyst Rich Baris. "The more moderate Establishment has always skewed the delegate count and calendar to work against insurgents and conservatives. By Trump dominating New England and similiar primary electorates, he's effectively shut out the usual suspects, mainly Gov. Jeb Bush."
Trump also held a large rally on Monday in Lowell, Massachusetts, a city in Middlesex County and fourth largest in the state. But, in many ways, it more closely resembles urban Granite State transplants than more liberal voters in the city of Boston. And, while the frontrunner enjoys a loyal Republican vote in most regions of the country, support for him in Vermont is relatively weak.