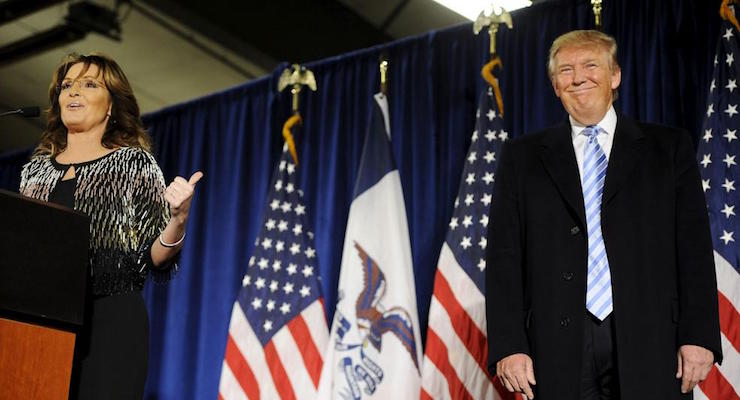 Texas Sen. Ted Cruz is currently weathering the worst 48-hour news cycle of his campaign, getting hit with a one-two punch in his must-win state. In Iowa on Tuesday, former vice presidential nominee and Alaska Gov. Sarah Palin endorsed Cruz's chief rival and national frontrunner Donald Trump. Flying in from The Last Frontier to Iowa University in Ames, Palin
"You're putting relationships on the line for this country because you're willing to make America great again," she said at the rally. "I am here because like you, I know it's now or never."
"I'm in it to win it because we believe in America."
In an interview with CNN conducted before the endorsement was announced, Cruz spokesman Rick Tyler said Palin endorsing Trump would be "a blow to Sarah Palin" because she "has been a champion for the conservative cause, and if she was going to endorse Donald Trump, sadly, she would be endorsing someone who's held progressive views all their life …" But, he added, "I'd be deeply disappointed."
Cruz quickly sought to undo the optical damage, , tweeting: "I love @SarahPalinUSA. Without her support, I wouldn't be in the Senate. Regardless of what she does in 2016, I will always be a big fan."
I love @SarahPalinUSA Without her support, I wouldn't be in the Senate. Regardless of what she does in 2016, I will always be a big fan.

— Ted Cruz (@tedcruz) January 19, 2016
That's a reference to the former governor's support for Cruz over the establishment favorite then-Lt. Gov. David Dewhurst during the U.S. Senate primary in Texas. Though she has backed away from the spotlight to some degree, Palin's endorsement still carries weight. She got behind now-Sen. Joni Ernst in a crowded GOP primary field she went on to dominate in 2014. Palin's endorsement was not the only one Trump received Tuesday. While campaigning at Iowa's John Wayne Birthplace Museum, he received an endorsement from the western film actor's daughter, Aissa Wayne.
The endorsements came after Iowa's Republican Gov. Terry Branstad called for voters to reject Cruz and flat-out told reporters he wanted to see Cruz defeated. However, there is a silver lining for the Texas senator. Branstad, the nation's longest serving governor in history, is not as popular among Iowans as he once was.
Branstad labeled Cruz a "big oil" candidate whose victory would be "very damaging to our state."
"It would be a big mistake for Iowa to support him," Branstad said. "And I know he's ahead in the polls but the only poll that counts is the one they take on caucus night and I think that could change between now and then."
Asked by a reporter whether he wants to see Cruz defeated, Branstad answered: "Yes."
"I don't think that Ted Cruz is the right one for Iowans to support in the caucus," he added after the news conference.
Worth noting, the governor's son Eric runs a pro-ethanol group that has been trailing candidates across the state. They have repeatedly warned against the senator's stance on ethanol subsidies, which he supports phasing out. Branstad's condemnation of Cruz wasn't at all an endorsement of Trump, however. To Cruz's credit, the governor is more politically aligned with establishment candidates, such as Chris Christie and Jeb Bush.
With less than two weeks before the Iowa caucus on Tuesday Feb. 1, 2016, Trump has retaken a slight (statistically insignificant) lead on the PPD average of aggregate polling in the Hawkeye State. While it is widely believed Cruz has the better ground game, a Trump operative told PPD earlier this week that they expect to break caucus turnout records, as they strive to register new caucus-goers.