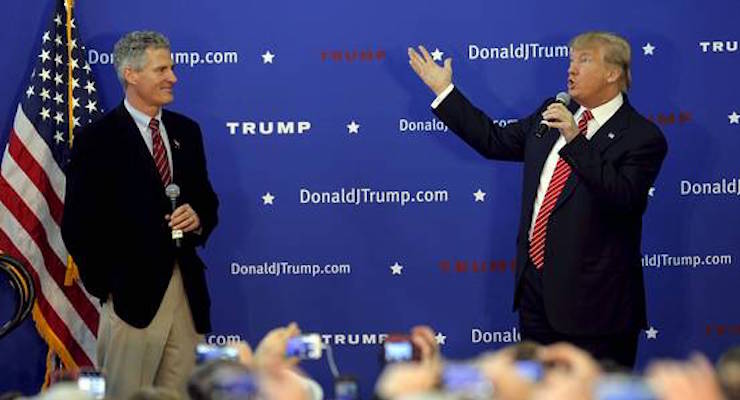 Former Massachusetts Sen. Scott Brown, who came close to toppling a popular Granite State incumbent, has endorsed Donald Trump less than a week before the New Hampshire primary.
Appearing at a rally for Mr. Trump Tuesday night, Brown said he doesn't take endorsing candidates lightly but decided to get behind the celebrity frontrunner because he was the one candidate who "has actually been a change agent."
"That was clear to me, it was Donald Trump," the former senator said. "It's something that's very important to me."
Brown's endorsement was definitely seen by the Republican field as coveted, though he is a more moderate Republican. Candidates, including the last-stand governors, have been courting Brown for his endorsement ahead of the New Hampshire primary for months.
While Trump placed second in the Iowa Republican caucus Monday night, the Granite State is a far better natural political fit for the Republican frontrunner. However, if Trump is to remain viable, he must win the state he has been leading in for more than five months. The good news for Trump and his supporters is that he is far ahead of the rest of the pack.
Donald Trump currently leads the GOP field on the PPD average of New Hampshire Republican primary polls by nearly 22 points.
Mr. Trump has planned a number of rallies in New Hampshire leading up to the state's primary on Feb. 9. Asked by reporters if he needed to conduct more after his Iowa performance, Mr. Trump said they were adding events "pretty rapidly."
"I'm just happy with the way we're doing," said Mr. Trump, who said he hoped to win New Hampshire's primary. "There's just a big bonding process going on."