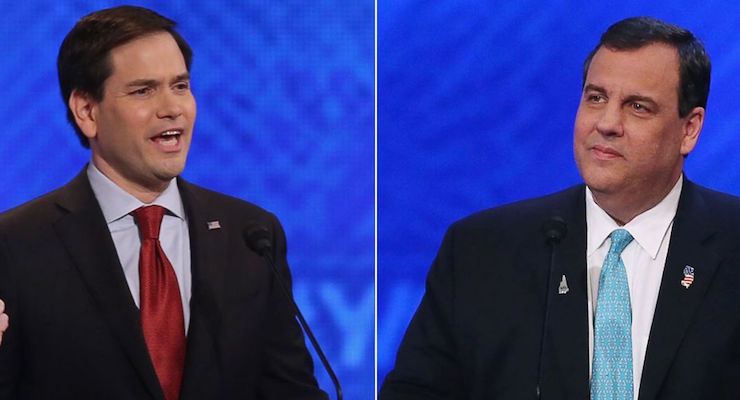 Gov. Chris Christie hammered Sen. Marco Rubio in the final Republican debate before the New Hampshire primary on Tuesday, casting him as a Washington politician who memorizes 25-second soundbites and skirting hard questions and choices.
"First, let's remember something. Every morning when a United States senator wakes up, they think about what kind of speech can I give, or what kind of bill can I drop? Every morning, when I wake up, I think about, what kind of problem do I need to solve for the people who actually elected me?" Christie said.
Christie hit Rubio over what he called "the memorized 25-second speech that is exactly what [Rubio's] advisers gave him" about President Obama.
.@ChrisChristie to @marcorubio: Being senator "does not prepare you for president of the United States" #GOPDebate https://t.co/0rI1Po7WDA

— ABC News (@ABC) February 7, 2016
"That's what Washington D.C. does. The drive shot in the beginning with inaccurate, incomplete information followed by the memorized 25 second speech."
When Rubio again went into Obama "knowing exactly what he is doing," Christie interrupted by saying, "There it is!" Rubio didn't help himself, playing right into Christie's line of attack by repeating the line five times.
Rubio touted his work sanctioning terrorist groups as one of his accomplishments while in office, and Christie again used his own comments to hit him over the head. The New Jersey governor slammed his voting and attendance record.
"The fact is when you talk about Hezbollah sanctions act that you list as one of your accomplishments, and just did, you weren't even there to vote for it. That's not leadership. That's truancy," Christie said.
As a fact check, Christie was referring to the Hezbollah International Financing Prevention Act of 2015. However, Rubio was not the only senator who missed the vote. They all did. The bill was passed by unanimous consent which does not require senators to be physically on the floor.
Meanwhile, Democrats pounced on Rubio's poor performance. DNC Chair Debbie Wasserman Schultz took to Twitter to criticize the first-term senator, largely because they are terrified to run against him.
.@marcorubio unable to come up with anything significant he has done in the US Senate. #notreadyforprimetime

— D Wasserman Schultz (@DWStweets) February 7, 2016
Donald Trump, the frontrunner who has led in 70 consecutive New Hampshire Republican primary polls since July, maintains his double-digit lead in the PPD average by 14.3%.
"The Donald probably had his strongest debate yet and the question is now whether Gov. Christie not only hurt Sen. Rubio but also helped himself," said PPD's senior political analyst Richard Baris. "Gov. Kasich also had a strong performance but New Hampshire is still Trump's to lose."