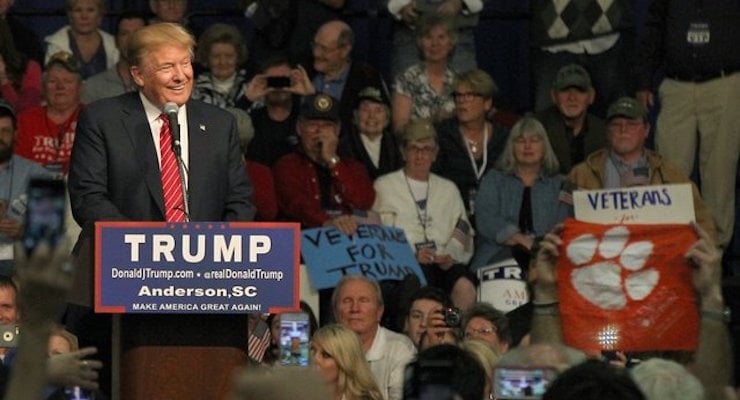 Donald J. Trump has won the South Carolina Republican primary with his strength among evangelicals and widespread appeal, PPD projects. Trump carried all the counties that he needed and Texas Sen. Ted Cruz desperately needed to remain competitive, despite evangelicals making up nearly three-quarters of the primary electorate.
Texas Sen. Ted Cruz and Florida Sen. Marco Rubio are in a battle for second, though exit polls and raw vote returns appear to give Cruz the edge. However, the South Carolina exit polls clearly understated Trump's support, as he is running the table on the important voter-rich counties.
In Horry County, a bellwether that is now home to Northeastern and Midwest transplants, is going for Trump big time. The Donald took 48% of the vote with 5.7% of precincts reporting. If that holds, it will be the largest margin in the history of competitive Republican primaries.
According to South Carolina exit polls, Trump carried men with 34% (10 points) and women with 26% (1 point). Ted Cruz carried voters age 18 to 29 by 30% to 25% for Trump, while both him and Marco Rubio each took 28% of the 30 to 44 age group.
A whopping 74% of South Carolina Republican primary voters said they support Trump's temporary ban on Muslim immigration to the U.S., while just 23% do not. That's an even larger margin than the 65% support found in New Hampshire, where the frontrunner won with an 18-point margin.
[brid video="28440″ player="2077″ title="Donald Trump&#39s South Carolina primary victory speech"]