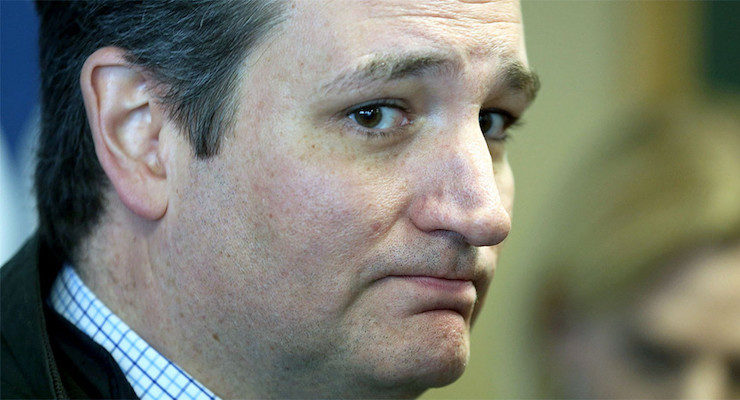 Texas Sen. Ted Cruz, the man who bills himself as the principled inside-outsider, agreed last week to participate in a concerted effort to stop Donald Trump. With the exception of Ohio Gov. John Kasich, who told Massachusetts Gov. Mitt Romney personally in a phone call last week he "was not interested in playing these games," the remaining rival campaigns have agreed to work together on various levels to stop Mr. Trump.
The strategy is two-fold. The first prong was laid out by Gov. Romney during his widely criticized speech in Utah last week. The basic idea is to help the candidate they believe has the best chance to defeat The Donald in various upcoming states to deny him an outright majority in the delegate count.
The second prong is to relentlessly hammer and assail his character, which they ultimately view as the most effective way to destroy his image as a nationalist defender of the little guy. According to one operative, the anti-Trump crowd understands voters will tune out an over-saturation of ads on the airwaves. However, they believe Sen. Cruz, the other non-establishment candidate in the race, holds more credibility with the primary electorate. Thus, the prevailing wisdom holds that if he echoes and reenforces these attacks, then they will resonate.
According to one official, the goal is to spend some $25 million to smear Mr. Trump before March 15 with ad buys prioritizing delegate-rich Illinois, Florida and Ohio. As of now, Mr. Trump leads considerably in public polling in all of these states, barring Ohio. Trump leads Gov. Kasich by just 5 points in the Buckeye State, while Florida appears to be tightening slightly. Sen. Cruz was the benefactor of the effort on Saturday, when political allies of the Bush family (whom Cruz came up under) behind the scenes mobilized support for him in Maine.
"We got a lot of new people out," an official allied with Gov. Paul LePage told PPD. "But they [establishment] have a big presence up here. Maine typically goes for their guy, who is moderate. You don't really think Maine had a sudden migration of very conservative evangelicals, do you?"
But not everyone sees this alliance as one that will benefit them or their career in the end.
"If Gov. Kasich does not carry his own state he will respect the will of the voters," said a Kasich campaign official, who spoke on the condition of anonymity in order to speak freely. "He doesn't believe Donald Trump can be defeated by getting in the mud or making backroom deals. More importantly, he doesn't believe an election is worth his integrity. That's not who he is."
When asked about the effort or potential collaboration, Cruz's communication manager Alice Stewart admitted on Saturday that all the non-Trump campaigns have been in contact with each other to discuss strategies to take down the frontrunner. While Stewart said she "was not at liberty to discuss" the content of those conversations, multiple sources have confirmed to PPD that Sen. Cruz agreed to participate prior to Mitt Romney's speech.
PPD first reached out to Stewart on Saturday, but after multiple attempts received no response. Ms. Stewart replaced Rick Tyler after he was eventually asked to resign amid multiple accusations of dirty tricks in Iowa and South Carolina.
Prior to Super Tuesday, raising the funds for a serious anti-Trump campaign was difficult because big GOP donors were concerned it would backfire and help Sen. Cruz. But after the Texas senator was defeated in Georgia, Alabama, Tennessee and other states he strategized his entire campaign around in the South, the path to a delegate majority all but closed. Now, they are willing to loosen the purse strings. Further, despite his precipitous drop donors still believe Sen. Marco Rubio will best Sen. Cruz in his home state.
An internal poll conducted for a super PAC opposing the frontrunner in Florida shows Sen. Cruz trailing by just under ten points in a head-to-head matchup, while Sen. Rubio trails by only 2 points, 47% to 45%. That's much closer than public polling indicates, though it was conducted in the last three days.
But it remains to be seen whether their confidence in misplaced. Sen. Cruz has opened some 50 offices in the Sunshine State and Sen. Rubio's standing in the polls has diminished significantly, which may be what the Texas senator is playing at.
Regardless, politics make strange bedfellows and donor dollars are headed to groups that were vehemently against Sen. Cruz earlier in the process, including the nonprofit American Future Fund run by Nick Ryan. The group, which ran anti-Cruz ads for Mike Huckabee's super PAC in Iowa, bought $1.75 million in ads in Florida and $450,000 in Illinois.
"The establishment and the base are normally trying to bury each other at this point in the process, but they've called a ceasefire to prevent Donald Trump from changing the status quo in one election cycle," said one Republican strategist involved in the effort. "It's a coin flip whether we have enough time left to pull this off. Sure, no one likes Ted Cruz. But we're all willing to work with him based on the reality. That reality is we're all afraid of Donald Trump, and we'll take dislike over fear at the end of the day."
If the efforts succeed, then at best they will deny Mr. Trump the necessary 1,237 delegates needed to lock down the nomination. But unless Sen. Cruz wins roughly 72% of the remaining delegates, which would require he pull off upsets in not-so conservative winner-take-all primaries, he won't get to the magic number, either. On Sunday, the senator said he thought a brokered convention would be a terrible idea for the party and essentially doom their chances in November.
For Sen. Cruz, the ultimate goal may be to force a contested, not a brokered convention. According to the rules of the Republican National Convention, a candidate must have won at least 8 states to have their name on the nomination ballot during the summer in Cleveland. In order to be a viable anti-Trump choice, Sen. Cruz would need to remain very close in the delegate count when the contests move to a winner-take-all allocation. Otherwise, it will likely turn into an out-and-out revolt.
That will be very difficult if Sen. Rubio remains in the race, blocking a one-on-one fight for the nomination both top contenders now prefer. Unfortunately, whether he knows it or not, his fellow-collaborators never intend to give him that chance.
"The plan is to block Donald Trump, not to nominate Ted," said a senior Republican strategist who worked for Bobby Jindal's campaign manager. "If Trump wins Florida it won't matter. The nomination is over."