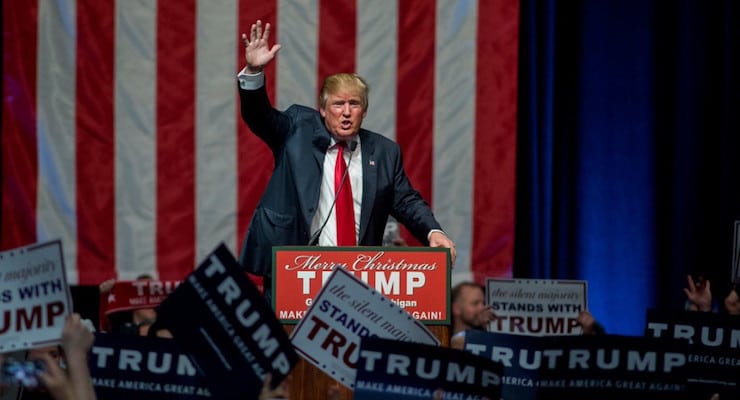 Donald Trump has won the Michigan Republican primary, carrying pivotal counties on the border with Ohio that could spell trouble for Gov. John Kasich. Mr. Trump carried or is carrying Macomb County, Monroe County, Oakland County and Wayne County.
More than half of Michigan Republican primary voters said they agree with Mr. Trump on trade policies, in that they are taking jobs away from U.S. workers. Mr. Trump won these voters overwhelmingly. There are real danger signs as well for the anti-Trump or "Never Trump" movements among mostly Establishment Republicans in D.C.
In the Wolverine State, there wasn't much difference in satisfaction between the candidates, where about half say they'd be satisfied with Mr. Trump as the GOP nominee, as well as roughly the same for Sen. Cruz and Florida Sen. Marco Rubio.
Mr. Trump also won a big victory in Mississippi, where 8 in 10 Republican primary voters self-identified as evangelicals. He carried these voters over Sen. Cruz 45% to 40%. The Mississippi win shows yet another state that was pivotal to Sen. Cruz's path to the Republican nomination.
A majority in Mississippi agreed on trade, with eight in 10 saying they are "very worried" about the direction of the economy. Half of Mississippi chose Mr. Trump.
Candidate
Popular
Vote
Delegate Votes
Soft
Pledged
Soft
Unpledged
Soft
Total
Hard Total
Trump, Donald John, Sr.
481,292  36.51%
25  42.37%
 
25  42.37%
25  42.37%
Cruz, Rafael Edward "Ted"
328,483  24.92%
17  28.81%
 
17  28.81%
17  28.81%
Kasich, John Richard
320,271  24.29%
17  28.81%
 
17  28.81%
17  28.81%
Rubio, Marco A.
123,018   9.33%
 
 
 
 
Carson, Benjamin Solomon "Ben", Sr.
21,235   1.61%
 
 
 
 
Uncommitted
19,762   1.50%
 
 
 
 
Bush, John Ellis "Jeb"
10,627   0.81%
 
 
 
 
Paul, Randal H. "Rand"
3,762   0.29%
 
 
 
 
Christie, Christopher James "Chris"
3,110   0.24%
 
 
 
 
Huckabee, Michael Dale "Mike"
2,597   0.20%
 
 
 
 
Santorum, Richard John "Rick"
1,718   0.13%
 
 
 
 
Fiorina, Carleton Sneed "Carly"
1,407   0.11%
 
 
 
 
Pataki, George E.
591   0.04%
 
 
 
 
Graham, Lindsey Olin
435   0.03%
 
 
 
 
Total
1,318,308 100.00%
59 100.00%
 
59 100.00%
59 100.00%