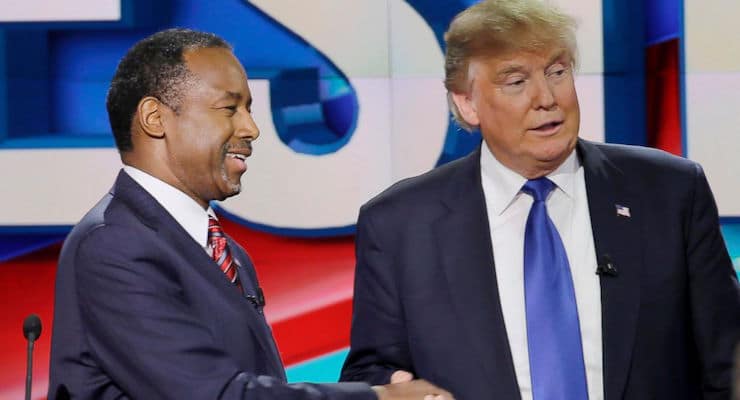 PALM BEACH, FL: Dr. Ben Carson, the former children's neurosurgeon and candidate, endorsed frontrunner Donald J. Trump in Palm Beach, Florida on Friday with a message of unity. Carson, calling out the media for distorting people's character, said he has come to know a very different Donald Trump than the man or candidate portrayed on television.
"There's a lot more alignment spiritually and philosophically than I ever expected," Dr. Carson said. "I think the American people, as they begin to see more of this "
Dr. Carson slammed the Republican Party elites and Establishment for holding secret meetings to plot to take down their own party frontrunner. He said it would be a grave mistake to "thwart the will of the people." He asked the media to due their part by taking their individual role as an American first seriously.
"We cannot allow the agents of division to separate us," he added. "As a nation, our strength is our unity."
"Donald Trump talks about making America Great. But he doesn't just talk about it," Dr. Carson said. "He means it."
"It's such an honor to have Ben. I really respect Ben and appreciate his endorsement," Mr. Trump said.
Worth noting, Dr. Carson said two "big picture" factors in his decision was 1) what would happen if the elites "succeed in their effort to stop Donald Trump. It would fracture the party reputably and hand the election to Hillary Clinton." And 2) Donald "Trump is willing to do what is necessary to break the stranglehold, the backs of the political class."
Dr. Carson also said he has "completely forgiven" Sen. Cruz for cheating him out of votes in Iowa by falsely telling caucus-goers he dropped out of the race.
Ben Carson: "I hope that we can bridge the gap with everybody" https://t.co/CCJGggooBM https://t.co/2DalOxAD5C

— CNN Politics (@CNNPolitics) March 11, 2016