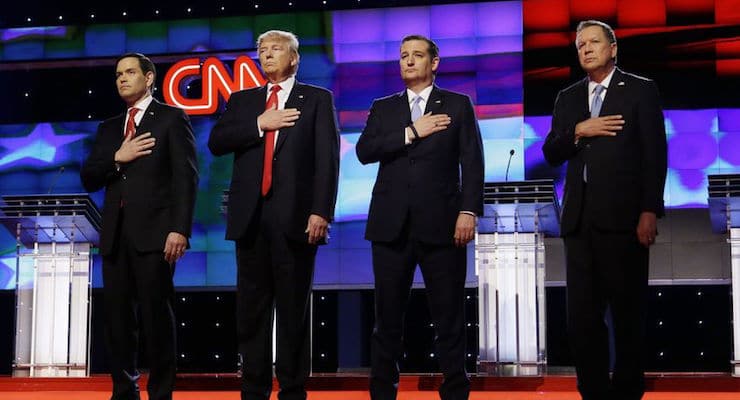 The remaining GOP presidential candidates chose to focus on issues over insults during the final debate hosted by CNN before winner-take-all contests on March 15. However, frontrunner Donald J. Trump and his closest rival Texas Sen. Ted Cruz did make clear that they were the only two candidates remaining on the stage with a mathematical path to the nomination.
Mr. Trump, for anyone who has read "The Art of the Deal," obviously thought it was time for the "handshake" and to close the deal. The GOP frontrunner took a presidential tone and refused to open his answering remarks with an attack on one of his opponents, as did Florida Sen. Marco Rubio and Ohio Gov. John Kasich. Sen. Cruz on the other hand sought to draw a contrast with the frontrunner ahead of the delegate-rich winner-take-all contests on March 15.
"I think, frankly, the Republican establishment, or whatever you want to call it, should embrace what's happening," Trump said in his opening remarks.
"There are only two of us who have a path to winning the nomination — Donald and myself," Cruz said, while also jokingly referring to Trump as the "son of a businessman."
But Trump didn't take the bait.
"That is not meant to be a criticism … that's just a mathematical fact," Mr. Trump said, urging the party to "be smart and unify."
Republican National Committee Chairman Reince Priebus sought to set the tone and silence increased chatter concerning party division. Introducing the program on the debate stage Thursday, he said the party will get behind the eventual nominee no matter who that may be.
"We are going to support the nominee of our party, whoever it is, 100 percent," Priebus said. After all, he implored, wouldn't any of the Republican candidates "be a world better than Hillary Clinton or Bernie Sanders?"
Noteworthy: Immigration Exchange
"I know the H1-B very well. We shouldn't have it, it's very, very bad for workers," Mr. Trump said during the Republican debate at Miami University. He added as an employer, he's used the program, but in reality it doesn't benefit U.S. workers.
"It's unfair to our workers and we should end it," Mr. Trump said, saying the program should be evaluated and ended if needed within one to two years after he takes office.
Sen. Cruz also now agreed with Mr. Trump on the problem of immigration, stating the system needed to be reformed to work for the American people. Ohio Gov. John Kasich stood out as the only candidate who still openly supports a pathway to citizenship.
"We need to redefine our legal immigration system, so that it meets the needs of the American people," Mr. Cruz said. "Right now we're bringing in too many low skilled workers and what that's doing is driving down the wages of hard working Americans."
Sen. Cruz recommended building a wall along the Mexican border, tripling the border control and end sanctuary cities by cutting off taxpayer to any city that doesn't obey federal immigration laws.
Trade Policy
Exit polls have shown that one of the non-Trump candidates have won the final week in the campaign in most states. However, Mr. Trump has won the last seven months. Trade, which the Establishment on both sides of the aisle has ignored, has risen to the level of top issue. Despite their past positions, the frontrunner's rivals sought to catch up align themselves with the "fair" trade banner rather than free trade.
Kasich, eying Ohio voters in his home state, flipped on his support for free trade agreements in the past. While serving as congressman, Gov. Kasich supported NAFTA (North American Free Trade Agreement). He also supported TPP in prior statements. But Kasich changed his message in light of Trump's successful populist appeals.
"My position has always been, we want to have free trade, but fair trade," Kasich said.
Mr. Trump leads by double-digits on the PPD average of Florida Republican Primary polls, while he holds a much smaller lead over John Kasich in Ohio. Kasich, though trailing, has the Ohio Republican Party on his side, breaking a tradition of neutrality they have held since 1952.