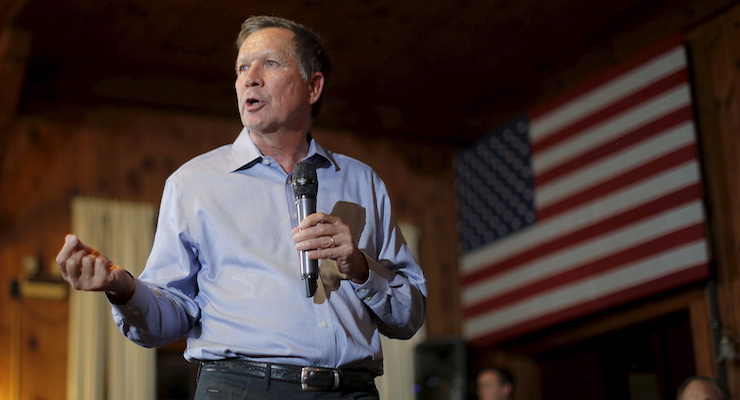 The Republican Party in the Buckeye State has broken a 64-year tradition of neutrality to stop Donald J. Trump from winning the Ohio Republican Primary on Tuesday. Ohio Gov. John Kasich has been trailing the Republican frontrunner in the average of polls for the past several weeks, leading in only one of the four polls conducted in March.
Gov. Kasich edged Mr. Trump by 5 points in a [content_tooltip id="37989″] 34% to 29%, while he trailed by 6 in two others. However, all the polls were taken before Mr. Trump won the Michigan Republican primary and swept the South with another big win over Texas Sen. Ted Cruz in Mississippi.
Gov. Kasich has been elected nine times as a congressman and twice as governor since his political career in Ohio began, making powerful friends within the party elite. While he's a long-shot for the Republican nomination, the plan is to keep him alive in the March 15 primary because he has the best chance to defeat Mr. Trump, which the state and national party desperately wants to do.
To do so, the party is relying on its voter turnout Tammany Hall-like machine and what Bloomberg has once referred to as a "polished" absentee and early ballot operation. The Ohio Republican Party already sent out mailers to roughly 150,000 absentee voters and Kasich's super PAC is now giving them follow-up calls. It's a coordinated effort no other candidate can duplicate, including Florida Sen. Marco Rubio.
The Sunshine State Republican Party claims to be neutral, but in fact is not when you take a roll call. Still, Gov. Kasich's operation is second to none and hopes to overcome deficiencies in border counties that fired off warning shots during the Michigan Republican Primary. Mr. Trump won a resounding victory among blocs of voters the media narrative doesn't suggest he would've won, including educated and working-class voters in typically moderate border counties.
"At the end of the day, we have the apparatus to turn out the vote," Matt Borges, the state GOP chairman said. "It's already been working for weeks, even months, to deliver this victory for John Kasich."
The party hasn't taken sides in a primary election since they endorsed Robert Taft in 1952. Ohio awards its 66 delegates on a winner-take-all basis, which along with a win in Florida, would put Mr. Trump clearly in command of the nomination, something Gov. Kasich and his free-trading supporters are hoping to prevent. The governor tried to separate himself from his past record during the debate in Florida this past week, attempting to align himself with the frontrunner on "fair" trade.
But, as congressman, then-Rep. Kasich voted for the North American Free Trade Agreement (NAFTA), which cost his home state more than 122,000 jobs, many of which good-paying jobs in the manufacturing sector. He also supported TPP right up until the debate last week, something Mr. Trump is hoping to remind voters before Tuesday. It was now inserted as a staple in his speech in Ohio on Saturday, which drew some 20,000 supporters.
Absentee Governor Kasich voted for NAFTA and NAFTA devastated Ohio – a disaster from which it never recovered. Kasich is good for Mexico!

— Donald J. Trump (@realDonaldTrump) March 12, 2016
Ohio had the biggest budget increase in the U.S. If it were not for striking oil, they would be bust! Governor Kasich in favor of TPP fraud!

— Donald J. Trump (@realDonaldTrump) March 12, 2016
But Gov. Kasich has surrogates hitting every official voter function, "reaching literally thousands of surefire Republican primary voters," says Borges. The events included 14 Lincoln Day dinners held around the state in early March, the signature local Republican party event of the primary season. "We had a Kasich surrogate at every single one of them," says Borges. No other campaign showed.
Absentee and early ballots typically account for a third of the vote. As of March 4, more than 84,000 had been received, according to Ohio Secretary of State John Husted. "It'll come down to whether or not enough working-class voters, including defected Democrats, overcome Gov. Kasich's operation," Husted said on Friday. According to PPD's senior political analyst Richard Baris, who aggregates election data for the PPD Election Projection Model, Gov. Kasich would lose his own state if all things were equal.
"Just judging by the voting behavior of similiar demographics in Michigan, Donald Trump should win Ohio," said Baris. "But you never want to count out the party machine, who rely on organization and favors to get out the vote. It may not be pretty or the best of us, but it works. If anyone can overcome it, it's Trump. He won and won big in Oakland County, Macomb County and just about everywhere else you would expect Gov. Kasich to do well."
Borges and the Ohio Republican Party remain optimistic, despite the energy, aggregate polling and past Michigan voting favoring Mr. Trump.
"At the end of the day, we have the apparatus to turn out the vote," says Borges. "It's already been working for weeks, even months, to deliver this victory for John Kasich."
Donald J. Trump leads Gov. John Kasich on the PPD average of Ohio Republican Primary polls by 2.5%.