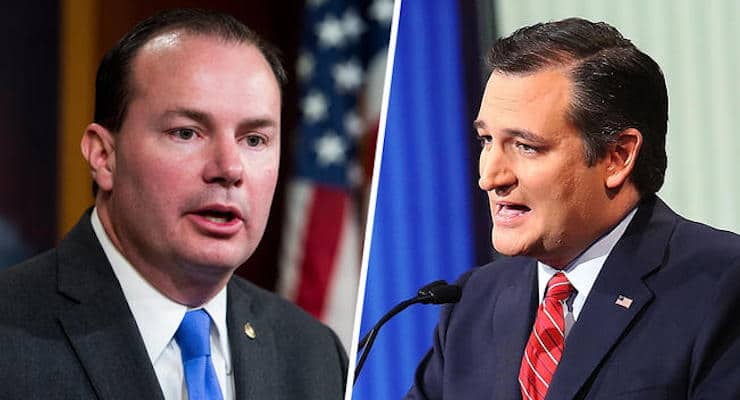 Utah Sen. Mike Lee on Thursday endorsed Texas Sen. Ted Cruz for president in Florida and urged the state's senator, Marco Rubio, to drop out of the race. The endorsement marks the first the Texas senator has received from his colleagues in the upper chamber.
Lee, who has not endorsed until today, is considered to be one of Cruz's only allies in the Senate, but has campaigned for both Cruz and Marco Rubio. But when asked by reporters if he had spoken with Sen. Rubio and if he would request he unite behind Sen. Cruz, the Utah senator boldly called on Sen. Rubio to drop out of the race in his own backyard.
The development comes just days before the Florida Republican primary that awards 99 delegates on a winner-take-all basis on Tuesday, March 15. Frontrunner Donald J. Trump leads the junior senator and the field in the Sunshine State by 14.8% on the PPD average of polls. In a new FOX Poll and Quinnipiac University Poll, Mr. Trump holds a larger 23-point lead.
"Even if Sen. Rubio drops out before the contest on Tuesday, it is very unlikely Sen. Cruz can take Florida away from Mr. Trump," said PPD's senior political analyst Richard Baris. "First, there are thousands if not more votes already in the bank for Sen. Rubio from the early vote. Second, Mr. Trump doesn't have the same image problems in Florida that he will have to contend with moving forward. The aggregate data show he would defeat Sen. Cruz even in a 1-on-1 in this state."
Still, for Sen. Cruz to have a chance to catch Mr. Trump, which Baris says is still possible, the field would need to get to a one-on-one, and soon.
"We don't talk about the big delegate, winner-take-all states coming up where Sen. Cruz will not perform well in," Baris added. "But the best he can hope to do is stop Mr. Trump from getting to the magic number to secure the nomination. If he wins Ohio, too, it's all over."