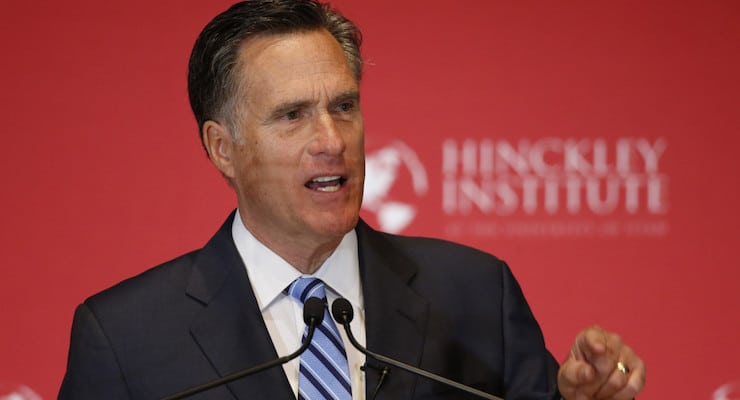 Mitt Romney Still Telling Republican Primary Voters How to Vote
Former Massachusetts Gov. Mitt Romney is telling voters in a robocall supporting Texas Sen. Ted Cruz not to vote for Ohio Gov. John Kasich. Romney, the 2012 Republican nominee who was just campaigning for Gov. Kasich in the Buckeye State, is now telling voters in Utah and Arizona that a vote for John Kasich is a vote for frontrunner Donald J. Trump.
"This is a time for Republicans across the spectrum to unite behind Ted. He is the only Republican candidate who can defeat Donald Trump," Mr. Romney says in the robocall, which was recorded for Utah and Arizona ahead of the March 22 Republican contests. "And at this point, a vote for John Kasich is a vote for Donald Trump."
The strategic voting ploy echoes a line that Sen. Cruz and his surrogates have oft-repeated over the past several weeks. Gov. Romney announced late last week that he would support Sen. Cruz in the Utah caucus, making him the second big name mormon (Glenn Beck is the other) to offer his support in the state where the religious minority makes up a large share of the primary electorate.
The former governor says Cruz "has spent his life defending the Constitution and the Bill of Rights" and will "fight to bring back jobs to America and raise wages for everyone."
"Ted will be a strong commander in chief, who will keep America safe. I'll be voting for Ted Cruz this Tuesday, and I'd encourage you to do the same thing," Romney says.
Worth noting, Gov. Romney–on the ropes after his defeat in South Carolina to former House Speaker Newt Gingrich–begged for Mr. Trump's endorsement ahead of the Nevada caucus in 2012. But, now, he is a staunch opponent and has urged voters to vote for the candidate with the best chance to defeat Mr. Trump in a particular state.
Interestingly, recent polls show Mr. Trump crushes Gov. Romney in a hypothetical head-to-head matchup and most psephologists agree his opposition has only tightened the frontrunner's grip on the primary electorate.
In Utah, Sen. Cruz appears well positioned to win the caucuses with support from the party on the ground, while Mr. Trump leads in Arizona. Utah will award 40 delegates on a proportional basis, though Sen. Cruz could take all if he wins more than 50% of the vote, while Arizona awards 58 delegates on a winner-take-all basis.