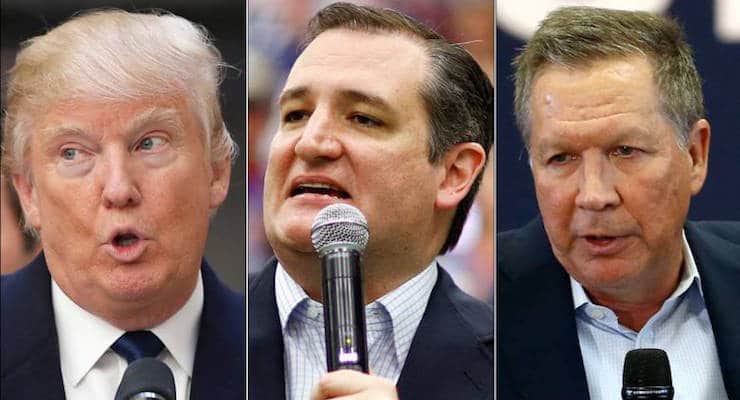 Kasich Strategist: What Cruz Says in Public Not What He Says in Private
Ohio Gov. John Kasich has long-attempted to stay out of the Lyin' Ted versus Sleazy Donald conversation. That no longer appears to be the case now that the campaign is on the receiving end of a new attack by Sen. Ted Cruz ahead of the Wisconsin Republican Primary on Tuesday.
Sen. Cruz is targeting Gov. Kasich for the first time with an attack ad airing on TV, which states the governor engaged in cronyism. The 30-second commercial reveals how Gov. Kasich received $611,000 when he was a board member of Worthington Industries, an Ohio-based steel processor. Coincidentally, the ad says, the company received tax breaks after Kasich became governor.
"Right before John Kasich was governor, he collected $611,000 from a Fortune 500 company. After Kasich became governor, that same company received 619 grand [$619,000] in state tax breaks for job creation but last year the company laid off 100 Ohioans even as its CEO cut a half-million dollar check to Kasich's super PAC. John Kasich: Not for us," says the narrator in the commercial.
John Weaver, Mr. Kasich's chief strategist, called the ad "deceptive" and disputed the ad's truthfulness and effectiveness.
"Ted Cruz is recycling failed Democrat attacks in a desperate effort to smear Governor Kasich," John Weaver, Mr. Kasich's chief strategist, said in response to the ad. "It didn't work for dishonest Ohio Democrats in 2014 and won't work for deceptive Ted Cruz now."
Mr. Weaver also said that their is a major difference between what Sen. Cruz says in public and what he says in private. PPD has repeatedly reported that there is a concerted effort by the Republican Establishment to deny Donald Trump the nomination. Whether his supporters want to accept it or not, the Cruz campaign has been a part of that effort for months.
Mr. Weaver last week accused Sen. Cruz of backstabbing the campaign by not making good on their end of the deal. Basically, they are angry that Sen. Cruz is competing in states that he previously agreed he would not compete in because Gov. Kasich had a broader appeal in the Rust Belt and Northeast.
Former Massachusetts Gov. Mitt Romney, the 2012 nominee and outspoken critic of Donald Trump, tried to reach out to the Cruz campaign after he endorsed his candidacy in Utah, but received no response.
Weaver slammed the Texas senator and his campaign in a series of tweets, as well as during an appearance on CNN, which came shortly after Sen. Cruz told New York Republicans Gov. Kasich won't be on the ballot for the Empire State's crucial April 19. He said the private conversations between the campaigns were all about finding ways the two can deny Mr. Trump the delegates needed to win the nomination on the first ballot
Cruz camp is disingenuous about division of targeting re: Trump. On multiple levels, Cruz camp has reached out to us (and vice versa) 1/5

— John Weaver (@JWGOP) March 25, 2016
to ensure Trump is denied 1,237. They know what we know: only path to nomination for Cruz or us is through open convention. Only action 2/5

— John Weaver (@JWGOP) March 25, 2016
to date has been unilateral by us re: AZ (which they knew in advance). Even Mitt has urged Cruz to work with us! To no avail. As usual, 3/5

— John Weaver (@JWGOP) March 25, 2016
they want it both ways, appearance of attempt to work together/victim, but no action. To question @JohnKasich motivation is underhanded, 4/5

— John Weaver (@JWGOP) March 25, 2016
and opposite of what they say in private. Facts are JK best positioned in most states moving forward & in general election. #stopvicitimact

— John Weaver (@JWGOP) March 25, 2016
Sen. Cruz has publicly called for Gov. Kasich to withdraw from the race because he cannot win the nomination outright.
"A vote for John Kasich is a vote for Donald Trump," Cruz repeated again Saturday.
Mr. Trump also said Gov. Kasich should withdraw, adding that he believes a three-way race now hurts him more than Sen. Cruz. Polls show Mr. Trump is now the top second choice for both candidate' supporters, lending to credence to Mr. Weaver's and Mr. Trump's assertions.
"On the other hand, Ted Cruz has never helped create any jobs, but did get a sweetheart loan from Goldman Sachs; a loan that he illegally failed to disclose during his Senate run," Mr. Weaver added. "Cruz's attack and own hypocrisy are further proof that the voters can't trust him and he will do anything to win."
Sen. Cruz did repeatedly tell a story about him and his wife Heidi having to liquidate a retirement account in order to fund the campaign. That in fact never happened and, in would appear, the Goldman Sachs loan was the real source of the funds he often spoke of in the story.
The senator said that the failure to disclose the Goldman Sachs loan was the result of a "paperwork error."