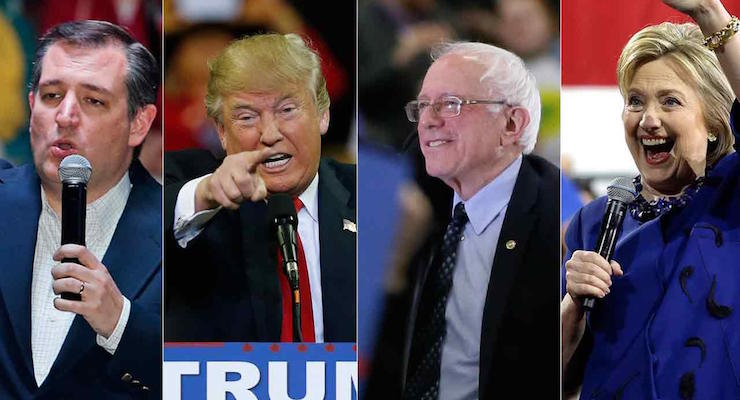 Texas Sen. Ted Cruz and Vermont Sen. Bernie Sanders couldn't be more philosophically opposed to each other. But on Tuesday the two very different politicians share a common goal–stop frontrunners Donald J. Trump and Hillary Rodham Clinton in Wisconsin.
Sens. Cruz and Sanders have held leads in The Badger State, according to the average of polls conducted in the past two weeks–the former leads by 3.1 and the latter leads by 1.5%. But their level of support has thinned considerably from the double-digit leads enjoyed last week.
Several things have proved to be effective against Mr. Trump in the state–local talk radio and Ohio Gov. John Kasich among them. Conservative talk radio hosts–including Charlie Sykes, Jeff Wagner of WTMJ, and Mark Belling, Vicki McKenna and Jay Weber of WISN–have been in the tank for Sen. Cruz, which has disproportionately impacted regions of the state that typically hand him large margins of victory. Add Gov. Kasich, who appeals to many of the same voters, and it equals a deficit, something the front-runner himself acknowledged.
"In certain areas — the city areas — I'm not doing well," Mr. Trump told voters at a rally in Racine. "I'm not doing well because nobody knows my message. They were given misinformation."
Indeed, Mr. Trump has outperformed in Rust Belt states similiar to Wisconsin, largely a result of his populist message and "fair" trade. But demographically, Wisconsin is somewhere in between Iowa and Michigan and his economic message has struggled to break through amid a series of controversies, some of which were self-inflicted.
That was the case in a recent combative, sandbag interview with Mr. Sykes, a popular conservative talk radio host. Sykes is a leader of the "Stop Trump" movement and lamented how he had "failed to introduce" him to Wisconsin's "tradition of civility and decency."
"Can someone win without talk radio?" Mr. Sykes asked during a commercial break from his program. "Yes, theoretically. Except no one has."
Stephen J. Miller, a senior policy advisor to Mr. Trump on loan from Alabama Sen. Jeff Sessions, tried to change all that at a rally on Monday. Citing his support for foreign worker visas and international trade deals, Mr. Miller called Cruz "Goldman Sach's favorite senator" and, essentially, a total fraud.
"I'm going to take just a moment to tell each and every one of you," he said. "The real truth about Goldman Sachs' favorite senator, Ted Cruz. Ted Cruz himself is bringing up hit pieces on him. Ted Cruz brought up the Enquirer and then blamed us for that. Ted Cruz is probably going to bring up the D.C. Madam story and blame us for that too."
"Because he doesn't want to talk about the issues affecting your life."
Sen. Cruz repeatedly cited Sen. Sessions on the campaign trail in an attempt to sure up his conservative bona fides on immigration. But in what was a devastating development ahead of crucial Super Tuesday contests in the South, Sen. Sessions endorsed Mr. Trump. The New York businessman went on to win all but one state Sen. Cruz staked his entire campaign strategy on to win the nomination.
"Ted Cruz is a radical Wall Street globalist who will rip the beating heart of manufacturing out of the United States of America," Mr. Miller added. "Ted Cruz sided with Goldman Sachs and the globalists over the issue of trade. We can not let that happen."
On Monday, Mr. Trump was confidant and said he might even win Wisconsin, despite the endorsement he got from Gov. Scott Walker. He compared Wisconsin to South Carolina, where popular Republican Gov. Nikki Haley endorsed Florida Sen. Marco Rubio. Mr. Trump won a decisive victory in The Palmetto State, taking all 50 delegates in a proportional allocation.
"It was over. I was going to get killed," Mr. Trump said. "The governor supported Marco and I said, 'That's bad.' But guess what happened? I won in a landslide. Same thing is going to happen here, I think the same thing."
"I don't know, maybe not," Trump added. "If we do well here folks, it's over."
For Sen. Sanders, who pulled off an upset win in Michigan that proved to be the biggest polling blunder since the New Hampshire Democratic Primary in 1984, the campaign is feeling increasingly confident they have overtaken Mrs. Clinton. On Monday, the self-proclaimed democratic socialist promised to rewrite trade deals and oppose the Trans-Pacific Partnership (TPP) at two events with the UAW (United Auto Workers Union) Local 95 in Janesville.
Sen. Sanders has won the last five contests, as well as eight of the previous nine. Yet, he remains the clear underdog for the Democratic nomination.
"If I had a choice I'd rather be Sen. Sanders," says PPD's senior analyst Richard Baris. "The polls have been all over the place on the Democratic side and someone is going to be right, someone wrong. For Sen. Cruz, the trend looks pretty clear. Mr. Trump is gaining if not overtaking him."
The final [content_tooltip id="38766″] showed the frontrunners surging ahead of their respective challengers. Mr. Trump surged to a 10-point lead over Sen. Cruz and Mrs. Clinton held a statistically insignificant 1-point lead over Sen. Sanders. While those numbers appear to be an outlier at first glance, the trend at least for the Republican primary is clearly moving against Sen. Cruz.
Following the coveted endorsement of Gov. Walker, the Texas senator and Trump's closest rival held as much as a 10-point lead. But that appears to have been fleeting support.
We will all find out soon.