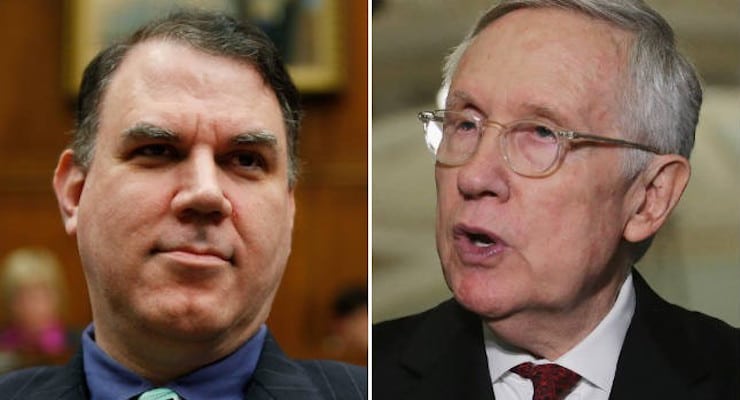 Fireworks erupted on Wednesday between Rep. Alan Grayson, D-Fla., and Senate Minority Leader Harry Reid (D-Nev.) over ethics charges against Grayson and his bid for the Senate. The exchange occurred when outgoing Sen. Reid attended the weekly meeting of the Congressional Progressive Caucus (CPC) as a guest and Rep. Grayson jumped to the attack. He slammed Reid's repeated past calls for the Florida Democrat to resign over allegations that he violated House rules by running hedge funds through his congressional office.
"Shame on you. It's not true," Grayson said, according to sources in the room.
"It is true, and I want you to lose," Sen. Reid bluntly responded.
Rep. Keith Ellison, D-Minn., the leader of the CPC, jumped in to stop Rep. Grayson.
"Why are you doing that?" Rep. Ellison asked, according to sources in the room who spoke to The Hill. "This is so stupid."
A second source claimed other CPC members backed Ellison's stand.
"All the members were appalled" by Rep. Grayson's behavior, the source said. "It was embarrassing for him and embarrassing for us that he behaved that way."
Grayson, a known far left radical liberal, who once took to the House floor to say the Republican health care plan is to let people die, is in a primary battle with the more moderate Rep. Patrick Murphy, D-Fla., in the race to replace Florida Republican Sen. Marco Rubio. The freshman senator promised not to run for reelection and the White House, leaving it an open race in the Sunshine State.
Reid has endorsed Murphy in the contest.
Reid's office issued a statement after the meeting confirming the confrontation, saying the Democratic leader "was honored" to address the CPC but that Grayson "decided to be disruptive, to the embarrassment of his fellow colleagues."
"Senator Reid took the opportunity to express his low opinion of Congressman Grayson to his face and remind him that the reason Senator Reid has said that Grayson is under ethics investigation and appears to be running a Cayman Islands hedge fund from his Congressional office in order to line his own pockets is because these things are true, as established by seventy-four pages worth of evidence from the Congressional Ethics Committee," the statement said.
Grayson — who has dismissed the ethics complaint as "frivolous" and "politically motivated" — defended his conduct at the meeting, saying his motive was "very simple."
"I wanted to find out why Harry Reid lied about me a couple of months ago, when he smeared me. … I wanted to try to get to the bottom of it," Rep. Grayson told reporters. "What he said was profoundly untrue, and even allowing for the fact that I am the anti-establishment candidate in this race, it was a very low blow."
Grayson said he repeatedly pressed Reid to produce evidence that the ethics complaint has merit, but Reid couldn't do it.
"When you say something bad about somebody you ought to have some basis for saying it. And he had nothing," Grayson said. "I asked him easily, easily three or four times — maybe more — 'What's the basis for saying that? What's your evidence?' And all he could come up with is, 'I want you to lose.' And that is deeply disturbing. I mean, he's a smear-monger."
The Florida Senate race is rated a Toss Up on the PPD Senate Election Projection Model. The most accurate election forecast model on the Internet in 2014 will update its ratings after the party's hold their primary contests on August 30.