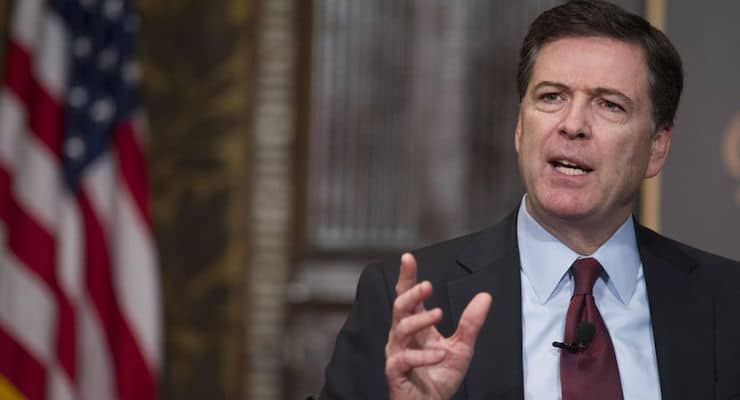 Hillary Clinton has long claimed the investigation into her use of a private email server to conduct official State Department business was a security inquiry or review, as opposed to a criminal investigation. But FBI Director James Comey said on Wednesday in response to the claim that he doesn't "know what that [a security inquiry] means," meaning point blank there is no such thing.
"We're conducting an investigation. That's the bureau's business. That's what we do here at the FBI," Director Comey said. "I'm not familiar with the term 'security inquiry'."
The Federal Bureau of Investigation has been conducting an investigation in order to discern whether Mrs. Clinton, the former secretary and frontrunner for the Democratic nomination, broke federal laws. As PPD previously reported, the investigation in January was expanded to include potential "public corruption" relating to her activities at the Clinton Foundation during her tenure at the State Department.
The director, who is personally involved in the investigation, made his remarks during what is called "a pen and pad" briefing with reporters in D.C. on Wednesday in response to a question from FOX News' chief intelligence correspondent Catherine Herridge. Mr. Comey also wanted to assure the American people that there would be "no special set of rules" in this case or any other.
The investigation also turned to Mrs. Clinton's longtime aides–Huma Abedin and Cheryl Mills–who had worked for her at the State Department, as well as former IT specialist Bryan Pagliano, who helped set up and maintain the server. The State Department revealed this week that it miraculously could not locate a single email from Mr. Pagliano during the four years he served as Clinton's senior information technology staffer.
Mr. Pagliano was working for Mrs. Clinton on the side and was also paid by her "off the books" personally, at the same time he was collecting a government paycheck. He failed to disclose both the job and the salary, which is a potential crime all on its own. He had invoked the Fifth Amendment before he negotiated immunity from criminal prosecution. An intelligence source close to the case, as reported by Herridge, said Pagliano has been "a devastating witness" for the FBI against Mrs. Clinton.
Mr. Comey also said he is not phased by the presidential election cycle or timeline, making crystal clear the FBI will conduct its investigation thoroughly and on its own timeline. They have begun to hall in several key witnesses and will interview Mrs. Clinton, who has a known record of lying to the FBI, herself in the near future.
Mills, a top senior aide to Mrs. Clinton, reportedly stormed out of an interview with the FBI after they allegedly raised a question the two parties had previously negotiated to be off limits. Both Ms. Mills and Ms. Abedin, the latter being the wife to disgraced New York congressman Anthony Weiner, have lawyered up.
The Washington Post reported that Mills and her lawyer, Beth Wilkinson, inevitably returned to the interview room after a brief exit. However, Mills and Wilkinson repeated asked for breaks during the interview and conferred more than once. the FBI investigator's questions that caused Mills and Wilkinson to walk out were related to the procedure used to produce emails for possible public release by the State Department. Mills ultimately did not answer questions about it because her attorney and Justice Department prosecutors deemed it confidential under attorney-client privilege.
Intersting Tidbit
One of Mr. Pagliano's mysterious missing emails surface. In it he wishes Mrs. Clinton a "Happy Birthday Madam Secretary". However, she didn't just reply herself with a "thanks," but rather forwarded the email to another staffer and instructed him to "please respond." In simple pleasantry emails, it would Mrs. Clinton demands her underlings "respond."