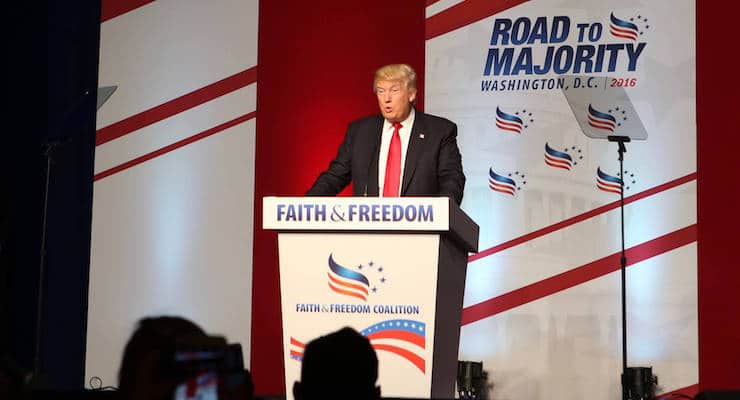 Speaking at the Faith and Freedom summit Friday, Donald Trump ripped Hillary Clinton, calling her "as crooked as they come" and "unfit to be president." He also slammed her for refusing to use the term "radical Islam" and handled multiple Code Pink hecklers before they were removed.
"Keeping people of faith safe from threats like radical Islam whether protecting them here, all of it needs to be confronted together, the threat of radical Islam. We have to do it," Mr. Trump said to applause in Washington, D.C. "Now Hillary Clinton, or as I call her crooked Hillary Clinton, she's crooked as they come. Refuses to say the words 'radical islam.' This alone makes her unfit to be president."
As PPD just reported, recently obtained emails reveal Mrs. Clinton apparently appointed an unqualified major Clinton Foundation donor to the board of a sensitive national security advisory panel. It is the latest revelation that reenforces the appearance and belief that the Clintons use public service for personal financial and professional gain.
Trump was then interrupted and heckled several times by members of the radical group Code Pink protestors.
"A little freedom of speech please. Very rude, but what are you going to do? Thank you, darling, I appreciate it," he said before they were escorted out. "Very, very sad. What's happening in our country right now is very sad. It's such a shame. And by the way these are professional agitators, folks. They come in. They're sent here by the other party."