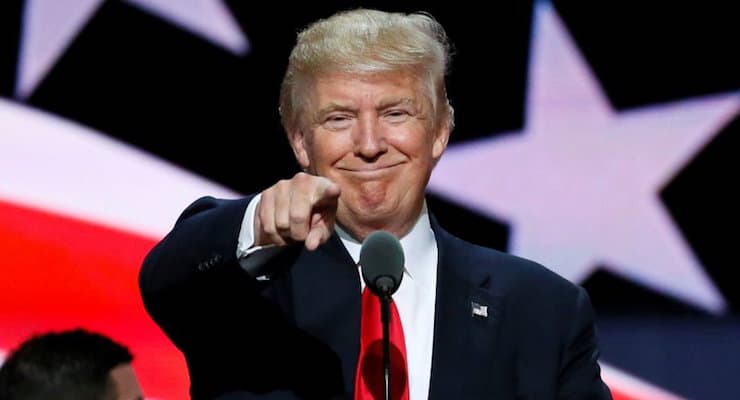 In his highly-anticipated speech at the Republican National Convention, Donald Trump lived up to his nickname as a working class billionaire. The 2016 Republican presidential nominee, speaking at the 2016 Republican National Convention in Cleveland, Ohio pledged to "restore law and order" fight everyday to put America first and be the voice of "the forgotten" struggling citizens.
"Every day I wake up determined to deliver for the people I have met all across this nation that have been ignored, neglected and abandoned. … These are people who work hard but no longer have a voice," Trump said. "I am your voice."
The New York businessman closed out his historic address by flipping Hillary Clinton's "I'm with her" campaign slogan on its head.
"I choose to recite a different pledge. My pledge reads, I'm with you," Trump said.
He praised law and enforcement and his theme was a heavy law-and-order message, declaring from the convention floor in Cleveland, "Safety will be restored" under a Trump presidency.
"America will finally wake up in a country where the laws of the United States are enforced," Trump vowed, using the words "safe" and "safety" 11 times.
Keeping with trademark lack of tolerance for political correctness, Mr. Trump dissected Mrs. Clinton's foreign policy record as secretary of state, citing the bloody result of her interventionist foreign policy in Iraq, Syria, Egypt and Libya. He said if you want to hear "the corporate spin, the carefully crafted lies, and the media myths, the Democrats are holding their convention next week — go there. But here, at our convention, there will be no lies."
Clinton's legacy is "death, destruction, terrorism and weakness," he said, but added that "Hillary Clinton's legacy does not have to be America's legacy."
A major theme in his speech was that a big "change in leadership" is needed in order to overcome the nation's challenges in a "moment of crisis." He argued that the nation's problems are created by politicians and only a non-politician can fix it. Who better to fix it, then Donald Trump, he argued.'
"I know the system better than anybody," he said, "which is why I alone can fix it."
Mr. Trump also hit on all his major campaign promises and themes, mentioning the word "trade" 14 times and drew big applause for vowing to build "The Wall." He said he would build a southern border wall and "immediately suspend immigration from any nation that has been compromised by terrorism until such time as proven vetting mechanisms have been put in place."
"Anyone who endorses violence and hatred" will not be allowed to entry and the opportunity to threaten American families. "We don't want them in our country."
In what was a historic moment, Mr. Trump vowed to protect LGBTQ citizens from terrorism like the radical Islamist attack at the Pulse nightclub in Orlando. In what was truly a powerful moment he showed his gay-rights support by thanking the crowd for cheering.
"It is so nice to hear you cheering for what I just said."
The speech caps a dramatic four-day convention marked by obvious tension and ending with a powerful display of party unity. On Wednesday night, Texas Sen. Ted Cruz withheld his endorsement during his speech, but became a non-story by Thursday. Mr. Trump's acceptance speech, the longest speech by a major party's nominee since at least 1972, drew a stark contrast and framed the election as a choice between "outsider change and the restoration of order" vs. "status quo corruption and increasing chaos."