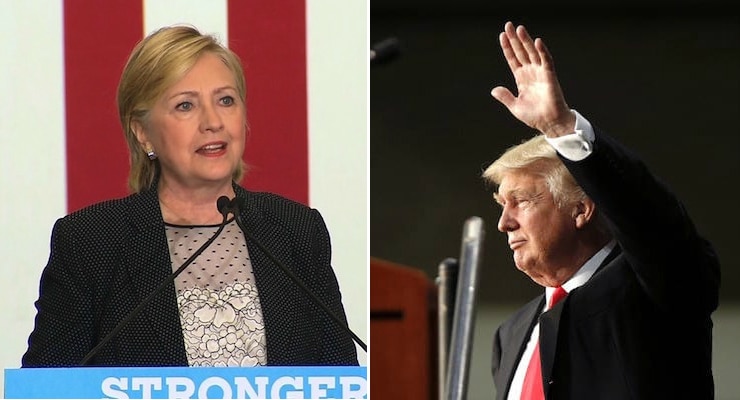 Hillary Clinton canceled a trip to California on Monday and all other events on Tuesday and will rest in Chappaqua, N.Y., after collapsing at the 9/11 memorial Sunday. Mrs. Clinton had scheduled two days of fundraising and an appearance on Ellen DeGeneres' talk show while in Southern California.
Campaign spokesman Nick Merrill said the medical episode at the 9/11 memorial Sunday was due to a recent pneumonia diagnosis. The campaign sought to downplay the episode on Sunday, but the explanation quickly collapsed. Later in the day, they followed up with a letter from her doctor.
"Secretary Clinton has been experiencing a cough related to allergies," Dr. Lisa R. Bardack said in the statement. "On Friday, during follow up evaluation of her prolonged cough, she was diagnosed with pneumonia. She was put on antibiotics, and advised to rest and modify her schedule. While at this morning's event, she became overheated and dehydrated. I have just examined her and she is now re-hydrated and recovering nicely."
However, the statement flatly ignores previous "medical episodes" and the issue of Mrs. Clinton allegedly fainting and suffering a concussion in late 2012. Her doctors subsequently found a blood clot in early 2013.
"Secretary Clinton attended the September 11th Commemoration Ceremony for just an hour and thirty minutes this morning to pay her respects and greet some of the families of the fallen," spokesman Nick Merrill said. "During the ceremony, she felt overheated, so departed to go to her daughter's apartment and is feeling much better."
However, the collapse actually occurred some 90 minutes after Mrs. Clinton left the 911 memorial ceremony. Further, reporters were not allowed to follow her and the temperature in New York City at the time was only in the low 80s. It is forecast to hit a high of only 85.
Hillary Clinton 9/11 NYC pic.twitter.com/q9YnsjTxss

— Zdenek Gazda (@zgazda66) September 11, 2016
Numerous news outlets, including People's Pundit Daily, and respected medical professionals, to include Dr. Drew, who had his show cancelled for it, have raised questions surrounding Mrs. Clinton's health. Despite questioning Arizona Sen. John McCain's health, Chris Cilliza at the The Washington Post, drew sharp criticism for attacking those calling Clinton's health into question as conspiracy theorists.
Meanwhile, her Republican rival Donald Trump returns to the campaign trail on Monday, making trips to Maryland and North Carolina. The New York businessman wished his rival well and instead plans to focus on what many are calling her "47 Percent" moment, a reference to 2012 GOP nominee Mitt Romney. At a fundraiser late Friday in New York City, Mrs. Clinton said she puts half of Donald Trump's supporters in a "basket of deplorables."
"The racist, sexist, homophobic, xenophobic, Islamophobic, you name it. They are just desperate for change," the former secretary of state said. "They don't buy everything [Trump] says, but he seems to hold out some hope that their lives will be different."
Appearing on Fox and Friends Monday morning, the New York businessman showed restraint on the issue of Hillary's health and pivoted to the issue at hand. The campaign reserved advertising blocs in battleground states to the tune of roughly $2 million. They will run and re-run the comments at the fundraiser and point out that Mr. Trump holds a commanding lead among military and veteran voters.
"She said it with such anger, such unbelievable anger," he said. "I think this is the biggest mistake of the political season."
[brid video="62806″ player="2077″ title="Dr. Drew "Gravely Concerned" About Hillary Clinton&#39s Health"]