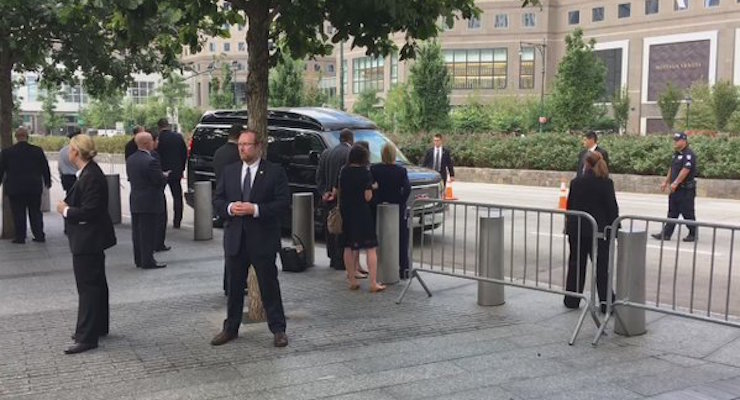 Democratic presidential candidate Hillary Clinton collapsed at the 15th anniversary 9/11 memorial service, vindicating questions surrounding her health. Those questions were previously relegated to the status of "conservative conspiracy theory" by The Washington Post and other "mainstream" media outlets, who are now forced to admit they could very well become "the central debate in the presidential race over the coming days."
Hillary Clinton 9/11 NYC pic.twitter.com/q9YnsjTxss

— Zdenek Gazda (@zgazda66) September 11, 2016
Numerous news outlets, including People's Pundit Daily, and respected medical professionals, to include Dr. Drew, who had his show cancelled for it, have raised questions surrounding Mrs. Clinton's health. Despite questioning Arizona Sen. John McCain's health, Chris Cilliza at the The Washington Post, drew sharp criticism for attacking those calling Clinton's health into question as conspiracy theorists.
Mrs. Clinton allegedly fainted and suffered a concussion in late 2012 and doctors subsequently found a blood clot in early 2013. The Clinton campaign sought to downplay the episode on Sunday, but the explanation quickly collapsed.
"Secretary Clinton attended the September 11th Commemoration Ceremony for just an hour and thirty minutes this morning to pay her respects and greet some of the families of the fallen," spokesman Nick Merrill said. "During the ceremony, she felt overheated, so departed to go to her daughter's apartment and is feeling much better."
However, the collapse actually occurred some 90 minutes after Mrs. Clinton left the 911 memorial ceremony. Further, reporters were not allowed to follow her and the temperature in New York City at the time was only in the low 80s. It is forecast to hit a high of only 85.