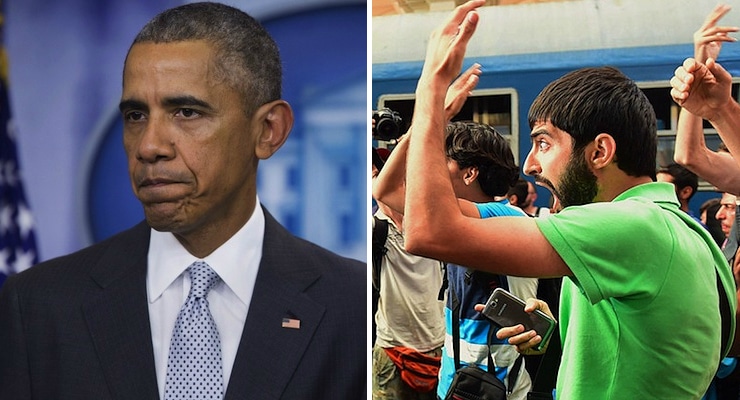 WASHINGTON, D.C. (PPD) — President Barack Obama plans to increase the number of refugees accepted into the United States next year to at least 110,000, an increase of some 30% from the number resettled in 2016. Secretary of State John Kerry briefed Congress on Tuesday about the White House decision. Obama's plan for the 2017 fiscal year, beginning Oct. 1, would accept 110,000 refugees fleeing persecution and conflict throughout the world — a nearly 60 percent increase over the 2015 fiscal year.
The Wall Street Journal reported 40,000 refugees would be authorized from the region of Near East/South Asia, which includes Syria, while another roughly 35,000 refugees would be accepted from Africa and 14,000 refugee are from regions to be determined. The Senate Judiciary Committee was provided a brief by the administration that said the White House "aims to admit a significantly higher number" of Syrians in 2017.
Obama is expected to announce the decision next week during the United Nations General Assembly meeting, despite U.S. despite public opinion. According to a recent survey, roughly half of American voters don't want to take in any refugees, at all, let alone 100,000. A Rasmussen Reports survey survey found 49% of likely voters say no to any and all alleged Syrian refugees, while 20% said they would only support taking in 10,000 total. Still, 50% said they were opposed to the idea of allowing 10,000 to come to the U.S. in a poll conducted immediately after the president's first announcement, and just 36% supported it.
"Despite opposition by the American people, a documented link between terrorism and individuals admitted to the United States as refugees, and over $19 trillion in debt, the Obama Administration has committed the United States to admitting 110,000 refugees during Fiscal Year 2017 — a roughly 57 percent increase in the number of refugees the United States admitted as recently as FY 2015, and a roughly 29 percent increase from the Administration's target for FY 2016," Alabama Sen. Jeff Sessions, who chairs the Immigration and the National Interest subcommittee, said in a statement.
The polls are unsurprising when you consider 72% of voters feel that giving thousands of Syrian refugees asylum poses a national security risk to America. That includes 47% who are "Very Concerned." On the flip side, just 27% don't share this concern, but that includes only 10% who are "Not At All Concerned." Fifty-nine percent (59%) of Republicans say they don't want any refugees from the Middle East relocated to the U.S., which is a view shared by 48% of voters not affiliated with either party and even 40% of Democrats. In fact, few voters in the president's party want any more than 25,000 new refugees allowed in.
Majorities of voters of all party affiliations are concerned about the national security threat that arises from bringing in Middle Eastern refugees, but Republicans have the strongest concern. Those concerns aren't exactly unwarranted.
At least one terrorist in the Paris terror attacks in November, 2015 entered the European Union through a popular entry point for so-called Syrian refugees, while a teenage Afghan refugee injured multiple people when he went on a slashing spree using an axe and a knife on a train in Germany last July.
The last year the U.S. resettled such a number of refugees was in 1995 when former President Bill Clinton set the ceiling at 112,000 following the Rwandan genocide. A recent study found the percentage who were Christian Mr. Obama resettled from the region, undoubtedly the most persecuted and displaced subgroup in the refugee population, was less than 1%.