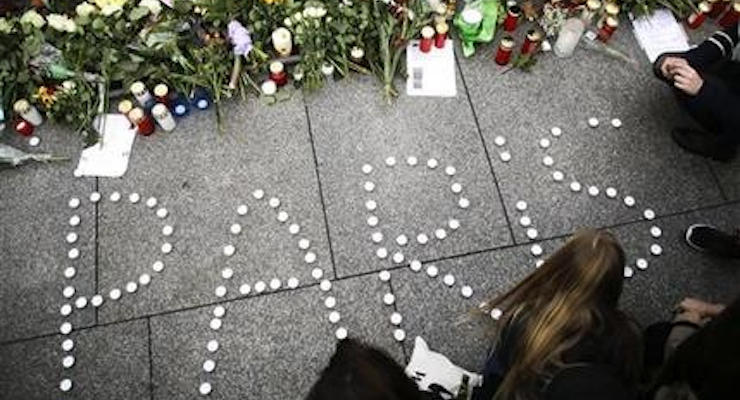 "Passport holder had passed from Leros on Oct. 3 where he was identified [as a 'refugee'] based on EU rules"
At least one terrorist in the Paris attacks Friday entered the European Union (EU) through a popular transit point for so-called Syrian refugees, PPD confirmed Saturday.
"On the case of the Syrian passport found at the scene of the terrorist attack, we announce that the passport holder had passed from Leros on Oct. 3 where he was identified [as a 'refugee'] based on EU rules," said Greek Citizen Protection Minister Nikos Toskas. "We do not know if the passport was checked by other countries through which the holder likely passed."
Eight Islamic State-recruited terrorists wielding AK-47s and hurling explosives executed hostages in the Bataclan Concert Hall shortly after a gunman opened fire in a popular restaurant. According to witnesses, the gunmen in the Bataclan, who were young men, shouted "Allahu Akbar" and "this is for Syria." They also asked "What are you doing in Syria?" and told victims "You are going to pay now."
Sources told PPD that officials believed one of the suspect's, identified as a French-born man flagged for ties with Islamic radicalism, was recruited in Syria with three others who migrated to Europe, and a Syrian passport was found on one of the dead suicide bombers, who was not known to French intelligence officials. Supporters of ISIS on Twitter under the hashtag باريس_تشتعل# were saying Rome, London, and Washington D.C. were next.
French President Francois Hollande vowed to wage "merciless" and "pitiless" war against the Islamic State (ISIS) after the Islamist group claimed responsibility for–and celebrated–the attacks Friday night.
Meanwhile, despite the mounting pressure and growing anxiety in Germany and France amid the flood of "asylum-seekers," only one leader has been consistently pushing back against the unfettered migrant policy.
"A modern day mass migration is taking place that could change the face of Europe's civilization," said Hungarian President Viktor Orban. "If that happens, that is irreversible. There is no way back from a multicultural Europe. If we make a mistake now, it will be forever."
European security officials have long and quietly feared that Islamic jihadists could take advantage of the mass migration influx, while opposition from native populations across Europe continues to rise. Support for Angela Merkel, who has opened Germany to a million migrants, is completely plummeting. Bavaria's CSU, sister party of Merkel's CDU, is in full rebellion. Bavaria, along with Leros, has been a main port of entry for the hundreds of thousands of arriving migrants.
"It is clear now that together with the victims of Islamo-fascism in the Middle East that come as refugees, extreme elements are crossing to Europe," Defence Minister Panos Kammenos said after an emergency meeting with Prime Minister Alexis Tsipras.
Greece's junior minister for migration Yiannis Mouzalas admitted in September that it would be "foolish" to completely discount the possibility of jihadists sneaking into Europe among the refugee wave.
Over 800,000 people have crossed the Mediterranean to Europe this year, alone. Yet, Tsipras on Saturday sought to downplay the danger, insisting that the refugees fleeing Syria "are hunted by the same terrorists" that were behind the Paris attacks on Friday.
"We must find solutions to the drama of the people who leave their homes, hunted by the same terrorists, and drown in the Mediterranean," Tsipras said in a televised address.