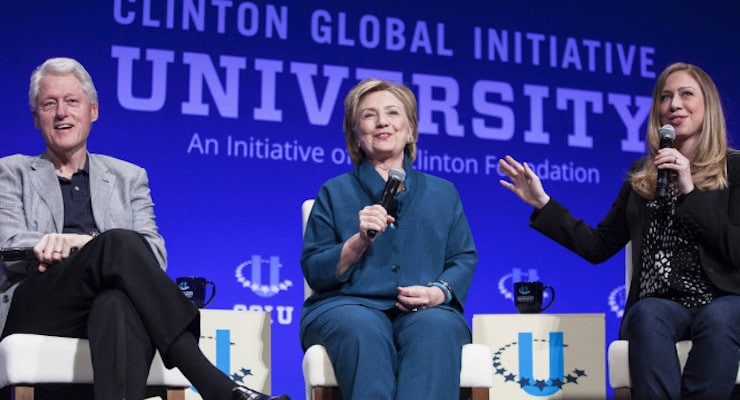 A review of tax returns and regulatory filings found Clinton family charities are in clear violation of New York law governing contributions by foreign governments. Yet, Democratic New York Attorney General Eric Schneiderman, who has endorsed Hillary Clinton for President and donated to the campaign, said his office believes the Clinton family charities are "in step" with state laws.
But, despite the review being buried by most media outlets, experts say they are not "in step" and Mr. Schneiderman is "not doing his job in that case."
As a Scripps Washington Bureau report correctly noted, the Internal Revenue Service (IRS) requires charities to disclose the total amount of contributions received from all governments, both foreign and domestic, on their federal tax returns. However, though federal codes do not require a charity to make government donors public, instructions for FORM CHAR500 provided by Mr. Schneiderman's office states charities operating or raising funds in New York must list them.
(2) CHAR500 article 7-A schedules.

(ii) Schedule 4b (government contributions [grants]) or a successor form schedule is required for organizations that received a contribution or grant from a government agency during the reporting period and shall include the name of each agency from which contributions were received and the amount of each contribution.
According to Title 13 (13 CRR-NY 91.5)–the Official Compilation of Codes, Rules and regulations of the State of New York governing charitable organizations–charities must publicly and annually "list the name of each agency" and "the amount of each contribution" received from any "government agency."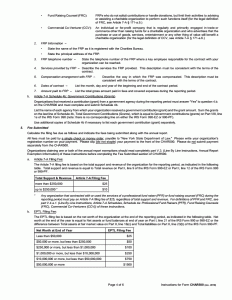 "Organizations that received a contribution (grant) from a government agency during the reporting period must answer 'Yes' to question 4.b. and on the CHAR500 and must complete and submit Schedule 4b," the instruction states. "List the name of each agency from which your organization received a government contribution (grant) and the grant amount."
An applicable exemption is granted only if "total gross receipts were less than $25,000" or "total assets did not exceed $25,000 at any time during the reporting period."
But that's not all.
The New York Attorney General's Office requires the total amount of government contributions disclosed to the state to equal what the charities report to the IRS on Line 1e. The IRS Rule for Line 1e states:
Line 1e: Enter the total amount of contributions in the form of grants or similiar payments from local, state, or federal government sources, as well as foreign governments. Include grant amounts from U.S. possessions.
Line 1e applies to "organizations that report more than $15,000 total" contributions from aforementioned entities. Yet, from 2010-2014, every year it has filed disclosures with the state, the Clinton Health Access Initiative (CHAI) has ignored this requirement.
For instance, in 2010, when CHAI supposedly broke with the Clinton Foundation, they only reported $242,099 in "Total Government Contributions" to the state of New York. That figure included only domestic grants. But for the same time period in 2010 it reported to the IRS a whopping $26,740,319 in foreign and domestic government grants.
From 2010 to 2014, there is a $225 million gap between what CHAI alone reported to the state and what they reported to the IRS, clear and repeated violations of the law. They only reported $8.2 million in domestic government grants to New York, indicating the vast majority of donations solicited during that period came from foreign governments. Further, while most questions surrounding foreign contributions have focused on the Clinton Foundation, the Scripps Washington Bureau review found CHAI received more than six times the amount in the years the two entities "split."
Worse still, the Clintons and officials at their charities obviously believe that Mr. Schneiderman's position as attorney general grants them special preferential treatment under New York State law. CHAI spokesperson Regan Lachapelle told Scripps that if AG Schneiderman's office wanted more information, it can ask for it.
"We believe that we are following instructions by recording the (domestic government grants) we receive on the New York form and indicating that we will provide them with foreign government donor information if they would like it," Lachapelle wrote in an email. "We clearly state in our cover letter that we would provide details on funding from international governments upon request."
Lachapelle said the charity provided "aggregate" amounts of all government grants to New York that are found on its federal tax returns.
"We believe we are in compliance," Lachapelle wrote. "The state of New York has not notified us otherwise. The officials in New York have never questioned our way of doing this."
Of course not. The why is obvious. A review shows each and every disclosure from CHAI since it allegedly broke from the Clinton Foundation has been filed under Mr. Schneiderman's tenure at the New York Attorney General's Office.
"He's not doing his job in that case," David Nelson, an attorney and former partner at the accounting firm of Ernst & Young, who served on the regulations and legislation committee of the Council On Foundations told Scripps Washington Bureau. "The Clinton Foundation cannot say they are in compliance with New York regulations."
The committee Mr. Nelson sits on is the philanthropic equivalent of the American Bar Association. But the answer to why he's not doing his job is equally obvious.
Disclosures from 2015 show he donated $2,700 to Clinton's campaign, the maximum amount allowed under federal law. He also serves on the Clinton campaign's leadership council for the state of New York, which is dedicated to "aiding the campaign with rapid response, organization building, grassroots organizing events, recruiting volunteer leaders, and identifying leaders for Get Out The Vote activities."
These irregularities found in the filings of Clinton family charities leave no question as to whether Mr. Schneiderman is allowing his office to be used as an extension of Clinton syndicate. He announced Monday his office issued a cease and desist order to the Trump Foundation barring all fundraising activity, immediately. The development comes after a a report alleged the Trump Foundation was not properly registered to solicit funds under New York law.
He's running a "politically motivated probe into Donald Trump's charity," Chris White of LawNewz.com concluded.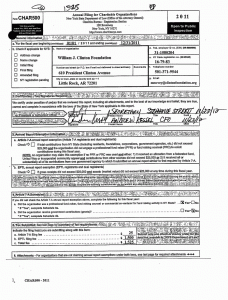 "Schneiderman could have waited until November 9 without compromising the investigation," Professor Stephen Gillers, an ethics professor with the NYU School of Law said in response to the evidence. "To the public it will appear that Schneiderman acted not in the interest of his client, the State, but for whatever influence his announcement might have on the election outcome."
From 2010-2013, the Clinton Foundation didn't even bother disclosing foreign monies to the state of New York. In fact, for three of those four years, preparers checked "No" on box 4b on regulatory form CHAR500. Andrew Kiessell, the Chief Financial Officer at the Clinton Foundation, signed the form claiming it received no government grants, at all.