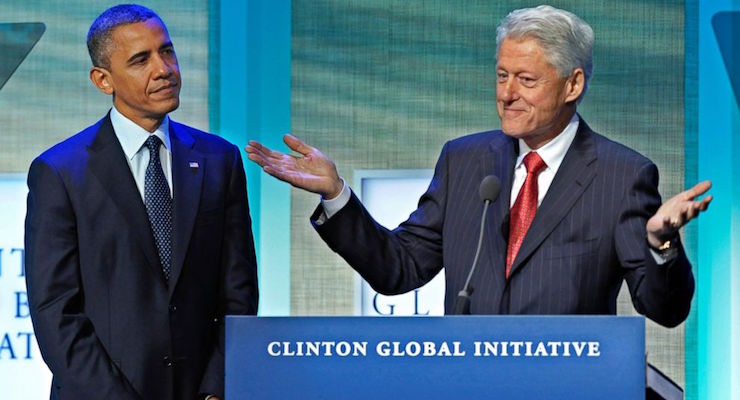 Democrat Hillary Clinton on Tuesday dismissed her husband Bill Clinton slamming ObamaCare and tried to pivot to Donald Trump promising to repeal the healthcare law. The former president, who does not have a good relationship with President Barack Obama outside of being political bedfellows, said it was "the craziest thing in the world."
Following her rally in Pennsylvania, the press gave the presidential nominee a chance to explain away the comments and she said she planned to strengthen the president's unpopular signature healthcare law. Mrs. Clinton added that she doesn't believe the former president's comments will undercut that effort.
"With respect to the Affordable Care Act, I've been saying we got to fix what's broken and keep what works," Clinton said on Tuesday. "And that's exactly what we're going to do."
Former President Clinton also said the system is hurting otherwise successful small businesses, who call into a catch 22 because they aren't eligible to be subsidized yet don't have the extra money.
"You've got this crazy system where all of a sudden 25 million more people have health care, and then the people who are out there busting it, sometimes 60 hours a week, wind up with their premiums doubled and their coverage cut in half and it's the craziest thing in the world," the former president railed at a rally in Michigan on Monday. "But the people getting killed in this deal are the small-business people and individuals who make just a little bit too much to get any of these subsidies," he added.
The comments come as leaked private audio of Mrs. Clinton at a private fundraiser for donors was also knocking the president's law. She said ObamaCare "has done a lot of good, but I'm gonna fix some of the things that need fixing. It's like any other new program."
She also spoke of younger voters who supported Bernie Sanders in the primary as basement-dwellers who live with their parents and want free college. With lacking enthusiasm and decreased support among younger voters, the comments bring attention the campaign doesn't need.
Trump senior advisor and social media director Dan Scavino took to Twitter to post a video of the comments, which were edited into a mini campaign ad.
100%! That is why @realDonaldTrump is going to 'repeal and replace disastrous #Obamacare.' #MAGA #AmericaFirst pic.twitter.com/IYicp7NHSd

— Daniel Scavino Jr. (@DanScavino) October 4, 2016