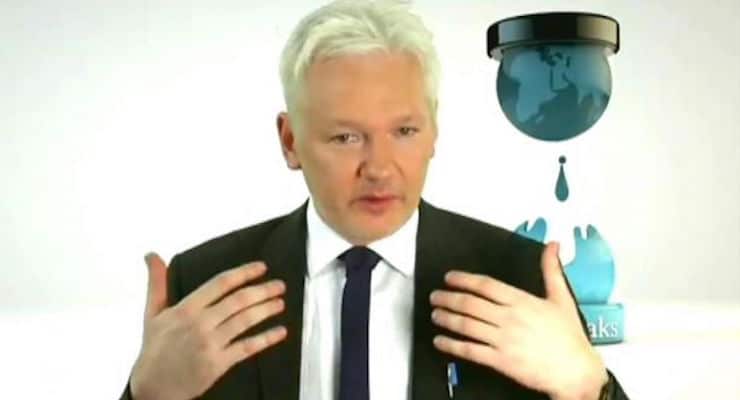 UPDATED: WikiLeaks founder Julian Assange will now appear via video link Tuesday morning at their tenth anniversary celebration in Berlin. He's a last-minute addition to the roster of festivities taking place this week in Germany. However, it is unclear whether he will use the video link to drop an "October Surprise" on Hillary Clinton.
ORIGINAL STORY: Citing "security concerns," the anti-secrecy group WikiLeaks has canceled what has become a highly-anticipated document dump on Hillary Clinton set for Tuesday. WikiLeaks founder Julian Assange said in August that the worst and "most serious" leak about Mrs. Clinton, the Clinton Foundation and Benghazi was yet to come.
NBC's Jesse Rodriguez reported that the announcement, which was to be made from the balcony of London's Ecuadorian Embassy where Assange has takeb sanctuary for years, was canceled due to "security concerns." Wikileaks has not said when it will now make its "announcement."
[brid video="60547″ player="2077″ title="WikiLeaks Julian Assange "The Most Serious Relates to Upcoming Publications""]
"The most serious relates to upcoming publications," the controversial editor-in-chief of the anti-secrecy group said on on Fox and Friends. Mr. Assange, in response to a viewer's question, also stated that the corruption in Washington D.C. "goes all the way to the top," a reference to President Barack Obama.
WikiLeaks first began to make headlines regarding the U.S. presidential election when they dumped emails showing the Democratic National Committee (DNC) collaborated with the Clinton campaign to harm Sen. Bernie Sanders politically. However, the media corruption and collaboration was perhaps the most concerning revelation in the emails.
Reporters at the Washington Post, such as Greg Sargent, and Politico were literally writing whatever they were told to write by the DNC. Yet, not a single reporter has been reprimanded let alone fired.
[brid video="60546″ player="2077″ title="WikiLeaks Julian Assange Emails Show Corruption in D.C. "Goes All the Way to the Top""]
Assange has reportedly received numerous threats and, in August, liberal commentator Bob Beckel actually suggested on TV that someone should murder him. Beckel, who also once admitted on election night during 2014 that Democrats steal Virginia in Fairfax County by filling in fraudulent absentee ballots, said that someone should "shoot the son of a bitch!"
Hillary Clinton strategist Bob Beckel called for WikiLeaks editor Julian Assange to be assassinated. #DNCLeak pic.twitter.com/9L2ixl24Er

— WikiLeaks (@wikileaks) August 10, 2016