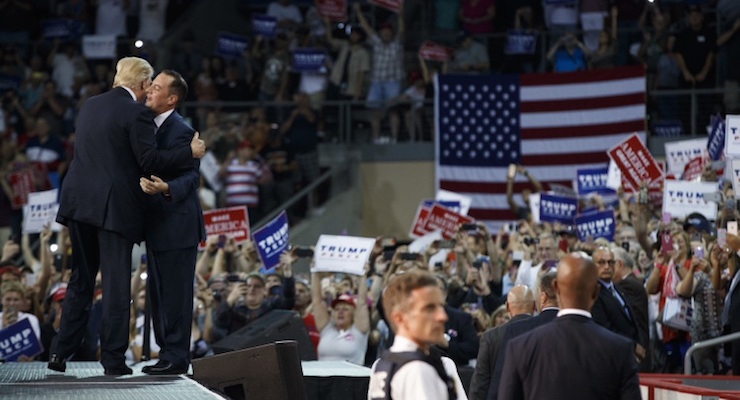 UPDATED: Republican National Committee (RNC) Chairman Reince Priebus will be chief of staff to President-Elect Donald J. Trump, sources told People's Pundit Daily. Further, those with knowledge of the decision-making process say former campaign CEO Steve Bannon is expected, though not confirmed, to be named Senior Counselor to the President.
"Steve and Reince are highly qualified leaders who worked well together on our campaign and led us to a historic victory. Now I will have them both with me in the White House as we work to make America great again," Mr. Trump said in the release since the initial report. "Bannon and Priebus will continue the effective leadership team they formed during the campaign, working as equal partners to transform the federal government, making it much more efficient, effective and productive."
The decision to appoint Chairman Priebus makes sense, as Mr. Trump has long-rewarded loyalty. Despite the ups-and-downs during the campaign season bombarded by one bombshell after another, the Wisconsinite defended his party nominee and did much to hold the party together. Further, Chairman Priebus ultimately earned Mr. Trump's trust when he refused to abandon his campaign during the tough weeks, when other members were asking him to redirect resources to down-ballot candidates.
The campaign statement referred to Priebus and Bannon as "equal partners." Mr. Bannon previously served as the executive chairman of Breitbart News.
The businessman from New York was the first Republican to carry the Badger State since Ronald Reagan in 1984.
According to sources, fellow-Wisconsinite and House Speaker Paul Ryan, along with Senate Majority Leader Mitch McConnell, R-Kty., both urged Mr. Trump on Thursday to pick Chairman Priebus. Jared Kushner, Mr. Trump's son-in-law and adviser, also said privately he is supportive of the decision.