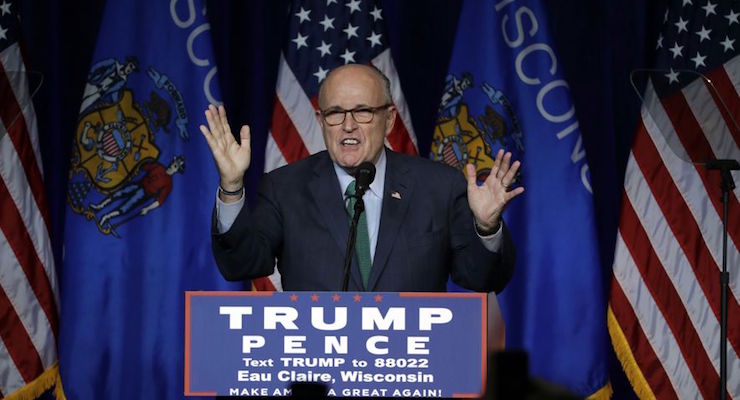 Former New York Mayor Rudy Giuliani is the top pick by President-Elect Donald Trump for secretary of state, multiple sources and reports say. Sources say the job is his if the man known as America's Mayor wants it, though aides have also considered former U.S. Ambassador to the United Nations John Bolton.
While Ambassador Bolton is well respected and certainly qualified, Mayor Giuliani and President-Elect Trump have have a close friendship as the result of a relationship that spans some 30 years. Mayor Giuliani gave a rousing speech during the Republican National Convention in Philadelphia back in July in which he defended the New York businessman, whom he called his friend against attacks he said unfairly impugned his character.
Mr. Giuliani was asked at The Wall Street Journal CEO Council meeting in Washington on Monday evening if his title would soon be "Secretary."
"One never knows," he replied, adding that Mr. Bolton would be a good choice for secretary of state. He was also asked if there was a better choice than Mr. Bolton and he replied, "Maybe me, I don't know."
Mr. Giuliani served as U.S. attorney and earned a reputation as an anti-corruption, anti-mafia bulldog. He cracked down on organized crime like no one before and went on to serve as mayor from 1994 until the end of 2001. In 2006, he was placed on an "Iraq Study Group," a congressional review to find solutions to the violence in Iraq. However, he stepped down after two months because he was considering a run for the White House at the time.
On NBC's "Today," Trump campaign manager Kellyanne Conway, who is now part of the presidential transition team, offered no definitive comment but certainly confirmed she believed the former New York mayor was on the table.
"He certainly is a very close adviser of President-elect Trump's," Conway said. "The mayor has [an] enormous skill set — would be an excellent member of the cabinet, and that's where I'll leave it."
Decisions made by the transition team, which is headed up by Vice President-Elect Mike Pence, on who will fill positions in the new Trump Administration are expected to quicken on Tuesday. Mr. Pence will meet with Mr. Trump at his New York headquarters later in the day, but the decision over secretary of state will likely not be final for several weeks.
For Mr. Trump, the choice is between a friend, early supporter and ally in New York, and a career diplomat who is frankly more hawkish than he is. Mr. Bolton, who called last year for the U.S. to bomb Iran, is known for his involvement with the Council on Foreign Relations and closeness with the neoconservative wing of the Republican Party. Unlike more bona fide neocons, Mr. Bolton was less hostile to Mr. Trump from the beginning but nevertheless is more of an interventionist than the future president.