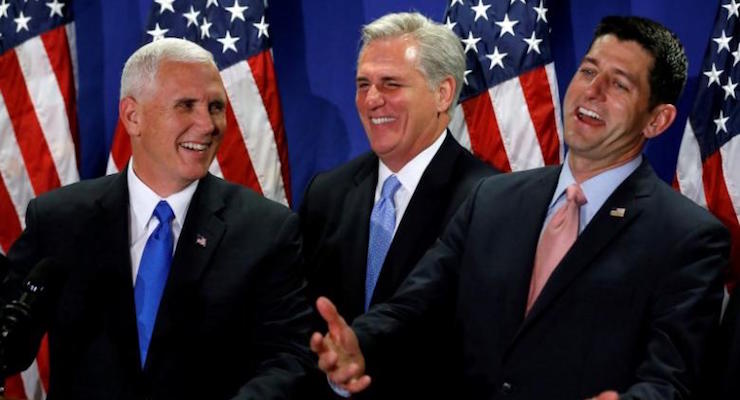 House Republicans nominated Speaker Paul Ryan, R-Wis., for a second term with the gavel as Democrats fell into disarray delaying a vote on Minority Leader Nancy Pelosi , D-Calif., who was thought to be certain before the election. It is a stunning turn of events considering a few short weeks ago it was Speaker Ryan who was believed to be in jeopardy and the party fraying.
But with the defeat of Hillary R. Clinton by President-Elect Donald J. Trump the situation reversed and opposition to Speaker Ryan was replaced with excitement and optimism moving into the new session.
"It's going to be a new dawn in America," Speaker Ryan said at a press conference Tuesday. "We are so eager to get together with our new President-elect to fix America's problems."
Our new House #Republican leadership team is eager to get to work with President-elect Trump to fix America's pressing problems. pic.twitter.com/flrUAHcGaN

— Paul Ryan (@SpeakerRyan) November 15, 2016
Majority Leader Kevin McCarthy, R-Calif.; House GOP Whip Steve Scalise, R-La.; and Chair of the Republican Conference Cathy McMorris Rodgers, R-Wash., all ran unopposed and were ultimately unanimously reelected.
Rep. Brendan Boyle, D-Pa., insisted the decision to delay the vote on Leader Pelosi was simply to take extra time to "talk about where we go as a party."
"We need to decide where we want to fight President-elect Trump and where we want to compromise," Rep. Boyle said. The congressman's home state last week voted for a Mr. Trump, marking the first time a Republican presidential nominee carried the state since 1988.
Rep. G.K. Butterfield, D-N.C., the chairman of the Congressional Black Caucus, was a bit more forthcoming about the decision. He said the delay was agreed upon "after considerable discussion" and was the result of Democrats getting a "shellacking" at the ballot box. Mr. Butterfield said members need to "recalibrate."
Meanwhile, Leader Pelosi, a prolific fundraiser who promised members they would retake the House of Representatives, just attended the first of a 3-day meeting with Nazi sympathizer and billionaire socialist George Soros at the Mandarin Oriental hotel in D.C. Sen. Elizabeth Warren, D-Mass., and Rep. Keith Ellison, D-Minn., were also in attendance to discuss strategy to oppose President-Elect Trump during his first 100 days.
But more rank-and-file members are saying that should be considered the agenda of the Democratic Party and that it is time for a new direction. They argue under her leadership the party lost touch with the working-class electorate that voted for President Barack Obama but broke for the Republican last week.
"It's not a delay," Leader Pelosi insisted Tuesday as she was berated by reporters on Capitol Hill.