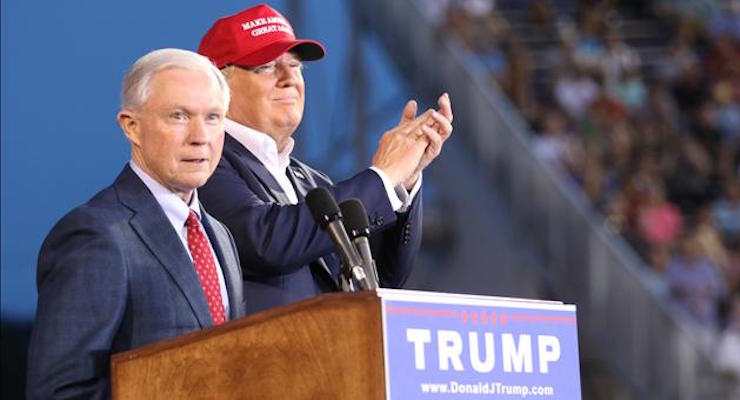 President-elect Donald J. Trump has selected Alabama Sen. Jeff Sessions to be the next attorney general, following an embattled tenure by Loretta Lynch. An official close to the transition process said that the offer had been made officially and on Friday morning he had accepted the offer.
Sen. Sessions, 69, who was cited frequently by the new president's rivals during the primary as the conservative standard-bearer on immigration, was an early supporter and first sitting senator to endorse Mr. Trump.
The transition team earlier this week released a transcribed text of his meeting with Sen. Sessions earlier this week, which also highlighted his impressive record as an attorney.
"While nothing has been finalized and he is still talking with others as he forms his cabinet, the President-elect has been unbelievably impressed with Senator Sessions and his phenomenal record as Alabama's Attorney General and US Attorney," the statement said.
Sen. Sessions also helped Mr. Trump with his campaign's national security policy message, which was inline with the America First doctrine. Like Trump, Sen. Sessions is a foreign policy realist and is critical of other European countries who are not contributing enough to NATO.
Stephen Miller, a top policy adviser to the senator, joined Trump's campaign and became an important voice on trade, immigration and corruption.
Sen. Sessions is a self-made man who worked his way through Huntingdon College in Montgomery, graduating with a Bachelor of Arts degree in 1969. before receiving a Juris Doctorate degree from the University of Alabama in 1973. He also served in the United States Army Reserve from 1973 to 1986 and earned the rank of Captain.
He was Assistant United States Attorney for the Southern District of Alabama from 1975-1977 before he was nominated by President Ronald Reagan in 1981 and confirmed by the U.S. Senate to serve as the United States Attorney for Alabama's Southern District.
He stayed in that position for 12 years and in 1995 was elected Alabama Attorney General, serving as the state's chief legal officer until 1997, when he successfully ran for the U.S. Senate.