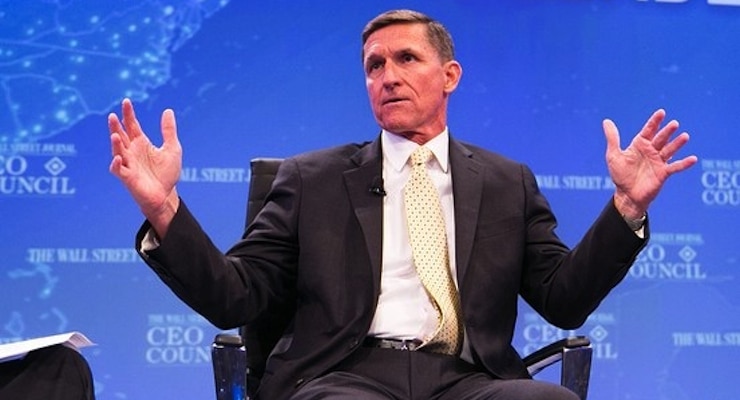 President-elect Donald J. Trump has offered retired Army Lt. Gen. Michael Flynn the role of national security advisor, and he accepted it Friday. A transition team official confirmed Friday that Lt. Gen. Flynn was 1 of 3 high profile national security positions–including Mike Pompeo for CIA director and Jeff Sessions for attorney general–that had been offered and accepted.
A formal announcement is expected later Friday.
Flynn, 57, was a top adviser and support to the Trump campaign during the general election. He frequently introduced the President-elect on the stump and at rallies. He rose to national political prominence after writing a book about his tenure as the head of the Defense Intelligence Agency (DIA) under President Barack Obama.
Flynn wrote in an op-ed for the New York Post after the release of his book that he was fired for the "stand I took on radical Islamism." Obama administration officials said Lt. Gen. Flynn was fired because of his contentious management style. However, James Clapper, the director of national intelligence who just resigned, said otherwise when he delivered the news to him.
The former DIA head said he asked Mr. Clapper if he was forced into retirement because of his leadership of the agency. The answer was "no."
His potential appointment wouldn't require Senate confirmation.
Lt. Gen. Flynn's military career was largely operational, meaning combat-related in both conventional and special operations senior intelligence assignments.
Flynn served as the assistant chief of staff, G2, XVIII Airborne Corps at Fort Bragg, North Carolina, from June 2001 and Joint Task Force 180 in Afghanistan until July 2002. He commanded the 111th Military Intelligence Brigade from June 2002 to June 2004 before becoming the director of intelligence for Joint Special Operations Command from July 2004 to June 2007.
He also served as the senior intelligence officer for the Joint Special Operations Command.