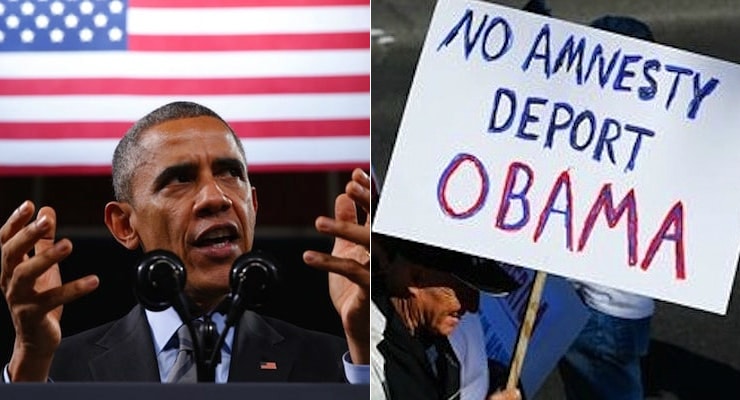 A review by the Center for Immigration Studies (CIS) of new data from the U.S. Census Bureau shows that 1.5 million new immigrants are settling in the country each year. The American Community Survey (ACS) is largest survey conducted by the Bureau and it shows newly arrived immigrants are both legally and illegally migrating to the U.S.
They include new green card holders, who are permanent residents, long-term "temporary" visitors who often stay permanently, such as guest workers and foreign students, and new illegal immigrants. Immigrants as a share of the U.S. population now represent 13.5%, the highest percentage measured in 105 years. In 1970, according to CIS, less than 5% of the U.S. population were immigrants.
The study comes as PPD releases a multipart post-election 2016 series analyzing how the Democratic Party has been decimated under President Barack Obama. According to PPD polling and analysis, it is largely the result of the Democratic Party moving too far to the Left and their growing over-reliance on non-white voters. The party has cast the South, the Rust Belt and greater Appalachia aside with the belief immigration had reached an electoral tipping point.
However, as the People's Pundit laid out, they were wrong and now Mr. Obama appears to be allowing that trend to continue.
"I have repeatedly argued–in more columns than I can count–that political coalitions, like economic policy changes and impacts, do not occur in a vacuum and are ever-changing," Rich Baris, the People's Pundit wrote Sunday in part two. "Yes, it's true that Democrats were poised to benefit from the demographic shifts in the country. But that was only if they could hold on to at least a substantial percentage of their traditional working-class white base in certain regions."
The new Census Bureau data also confirmed research published by the Center in June of this year, which was based on a far smaller Bureau survey. It also showed a significant increase in new arrivals in 2014 and 2015. But CIS was criticized–now we know unfairly–by some on the Left. In fact, the data released thus far for the first 6 months of the year indicate that new arrivals could have reached an estimated 1.6 million in 2015.
While someone between three-fourths and two-thirds of the 1.5 million are legal immigrants, including permanent residents as well as long-term visitors such as guest workers and foreign students, the remainder are new illegal immigrants.
People's Pundit Daily recently reported less than a week before the 2016 presidential election illegal immigrants from around the world were pouring across the U.S.-Mexican border. The review of the data backs up the U.S. Border Patrol agents testimony and apprehension figures.
"We are overwhelmed," said a veteran agent in McAllen, Texas. "We are seeing 800 to 1,000 apprehensions every night."
In fiscal 2016, the U.S. Border Patrol apprehended 117,200 immigrants from Central America, representing almost one-third of all apprehensions. This year, the agency said the number of apprehensions is 5,000 more than during the surge of 2014, the year that was considered an all out border crisis.
States with the largest increases in the number of immigrants from 2010 to 2015 were California (up 538,000), Texas (up 529,000), Florida (up 428,000), New York (up 232,000), New Jersey (up 133,000), Massachusetts (up 112,000), Maryland (up 108,000), Virginia (up 108,000), Pennsylvania (up 98,000), Washington (up 94,000), Georgia (up 81,000), Minnesota (up 79,000), and North Carolina (up 76,000).
Further, the increase in immigration from countries who do not share western values is larger than in any prior 5-year span. Preside-elect Donald Trump campaigned on implementing "extreme vetting" for immigrants coming from high-risk countries, a promise he first laid out during a speech at Youngstown, Ohio, in August. He said that immigrants would not only be vetted for possible connections to terrorism, but also for their believe in western, or First World values.
Growth of U.S. Foreign-Born Population Between 2010 and 2015, by Country of Birth
---
Country of Birth
U.S. Pop.
2010
U.S. Pop.
2015
Growth
Included in
World Values Survey?
1
Bangladesh
153,691
228,682
49%
no
2
Nigeria
219,309
323,635
48%
yes
3
Venezuela
184,039
255,520
39%
no
4
Egypt
137,799
185,872
35%
yes
5
Iraq
159,800
215,193
35%
yes
6
India
1,780,322
2,389,639
34%
yes
7
Ethiopia
173,592
228,745
32%
no
8
Pakistan
299,581
379,435
27%
yes
9
Ghana
124,696
155,532
25%
yes
10
Dominican Republic
879,187
1,063,239
21%
no
---
Source: American Community Survey.
Restricted to foreign-born populations of at least 100,000 people in 2010.
---