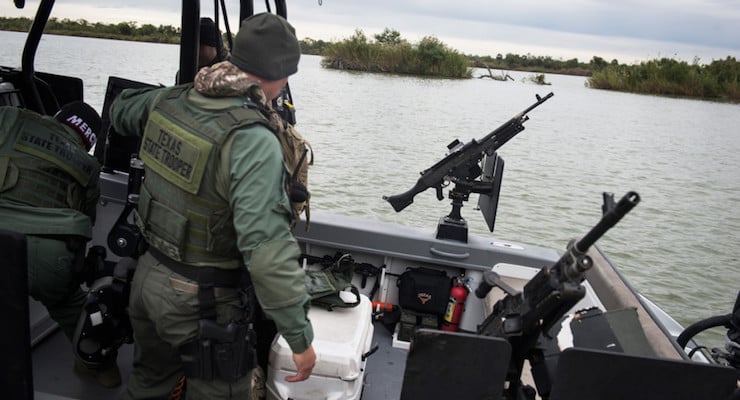 In April, we commented on a new documentary on illegal immigration put together by an organization called America Working, which shed light on what has been a bipartisan failure to secure the border and reform a broken immigration system. Now, with the 2016 U.S. presidential election less than a week away, immigrants from around the world are pouring across the U.S.-Mexican border–"No Documents Needed".
The surge of illegal immigration at the border, along with recent document dumps from WikiLeaks showing the Clinton campaign favors allowing non-citizen immigrants to vote, cap off an election year once-dominated by the issue, proving the documentary truly prophetic. Powerful and dangerous cartels are exploiting the politics of fear used by political candidates this cycle, and making a fortune.
"Smugglers are telling them that they need to come across now while there's a chance," Art Del Cueto, a Border Patrol agent in Tucson, Ariz., told Fox News. His views are wildly shared with other agents in Texas. As People's Pundit Daily reported last year, government officials in Guatalama and Venezuela say the Obama administration had put out the word that the door was open, which has been esascerbated by the campaign rhetoric during the cycle.
"People think if one candidate wins, certain things will happen, like a giant wall being built and then they can never get through," said Chris Cabrera, an agent in the Rio Grande Valley. "Another faction believes that if the other candidate wins, they'll get amnesty if they're here by a certain date."
The overwhelming influx–long a staple of Donald Trump's campaign and a political boon to Hillary Clinton–has been the longterm plan by the Democratic Party for years.  With a dwindling share of the white vote, Democrats have silently but consistently shaming politically weak Republicans into changing the makeup of the electorate.
"We are overwhelmed," said a veteran agent in McAllen, Texas. "We are seeing 800 to 1,000 apprehensions every night."
Until Mr. Trump, no Republican ticket has had the political will to raise the issue, one which Democrats predictably used to make typical race card arguments. But the issue is not about bigotry, as the politicians want Americans to believe.
In fiscal 2016, the U.S. Border Patrol apprehended 117,200 immigrants from Central America, representing almost one-third of all apprehensions. This year, the agency said the number of apprehensions is 5,000 more than during the surge of 2014, the year that was considered an all out border crisis.
The agency says they also apprehended 5,000 Haitians, up from just 700 last year. The number of immigrants apprehended claiming to be from Africa and Asia–countries that are known terror hotspots like Somalia and Yemen–are also way up, the agency says.
As the title of the documentary suggests, there really are no documents or few documents needed.
Del Cueto said the agents are "not getting any backing" from D.C. and "we need to start enforcing every single immigration law we have on the books," which is why for the first time ever the National Border Patrol Council endorsed a candidate for president–Donald J. Trump. The Council represents 18,000 field agents who are not allowed to talk openly with the media because politicians do not want the American people to know the truth.
The typical argument against cracking down on immigration is a humanitarian one, but frankly it doesn't hold up to scruntiy. Agents say llegal immigrants pooring across the border are coming across with expensive jewelry, carrying iPads and each somehow managed to pay a $4,000 to $6,000 smuggling fee to the cartels.
"It takes a good five or six minutes just to get their name out of them, they have a rehearsed story," Border agent Cabrera said. "Once they get those papers saying they can pass through our checkpoint, we'll never see them again."
For Democrats, it is less about about who shows for immigration hearings, poses security risks or puts a further burden on already strained social programs. It's only about who will be eligible to vote the next election cycle.