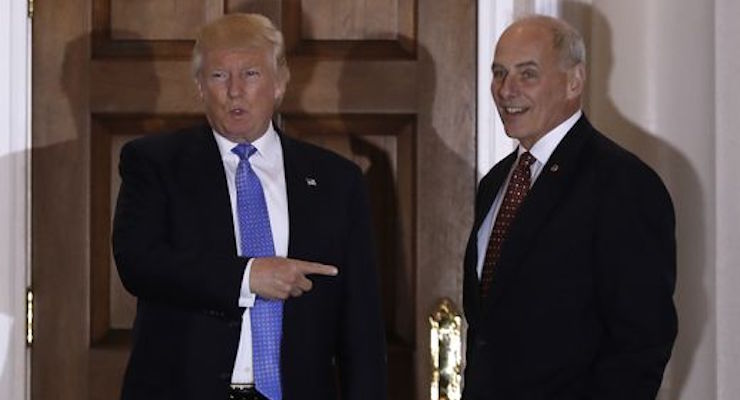 President-elect Donald J. Trump is expected to nominate retired U.S. Marine Gen. John Kelly for secretary of the Department of Homeland Security (DHS). Gen. Kelly, 66, who in 2012 succeeded General Douglas M. Fraser as commander of U.S. Southern Command (USSOUTHCOM). Kansas Secretary of State Kris Kobach is likely to be tapped for deputy secretary, according to a top transition official familiar with the president-elect's decision-making process.
Born May 11, 1950 and raised in Boston, Massachusetts, Gen. Kelly enlisted in the U.S. Marine Corps in 1970 and served as in an infantry company with the 2nd Marine Division, Camp Lejeune, North Carolina, He was initially discharged from active duty as a sergeant in 1972 and went on to graduate from the University of Massachusetts Boston in 1976 and was commissioned a second lieutenant after completing Officer Candidates School.
He served as the commanding general of the Multi-National Force West in Iraq from February 2008 to February 2009, and as the commander of Marine Forces Reserve and Marine Forces North in October 2009.
The appointment marks the third big military name to be appointed by President-elect Trump. Though reported last week, on Tuesday he officially announced he will nominate General James Mattis, a retired U.S. Marine Corps four-star general, to serve as Secretary of the United States Department of Defense.
"He is one of the most effective generals and extraordinary leaders of our time, who has committed his life to his love for our country," President-elect Trump said in a statement. "General Mattis is the living embodiment of the Marine Corps motto, 'Semper Fidelis,' always faithful, and the American people are fortunate that a man of his character and integrity will now be the civilian leader atop the Department of Defense. Under his leadership, we will rebuild our military and alliances, destroy terrorists and face our enemies head on, and make America safe again."
He also appointed Gen. Michael Flynn as national security advisor, a position that does not require Senate confirmation.