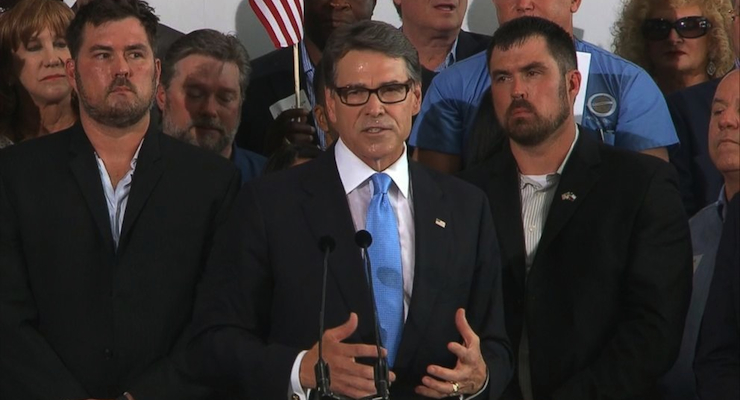 President-elect Donald J. Trump announced Wednesday he intends to nominate former Texas Gov. Rick Perry as Secretary of the U.S. Department of Energy (DOE). Sources told People's Pundit Daily earlier in the week that the chose had been made to tap the former rival and now it's official.
"As the Governor of Texas, Rick Perry created created a business climate that produced millions of new jobs and lower energy prices in his state, and he will bring that same approach to our entire country as Secretary of Energy," President-elect Trump said in a statement. "My administration is going to make sure we take advantage of our huge natural resource deposits to make America energy independent and create vast new wealth for our nation, and Rick Perry is going to do an amazing job as the leader of that process."
The former and popular Texas governor represents the second major cabinet announcement this week, following Mr. Trump making public his choice to nominate Exxon Mobil CEO Rex Tillerson for Secretary of the State Department (DOS). As the 47th top executive of Texas from 2000 to 2015, a still-popular Gov. Perry oversaw the world's 12th largest economy and major energy-producing state.
"It is a tremendous honor to be selected to serve as Secretary of Energy by President-elect Trump. I am deeply humbled by his trust in me," said Gov. Perry. "As the former governor of the nation's largest energy producing state, I know American energy is critical to our economy and our security. I look forward to engaging in a conversation about the development, stewardship and regulation of our energy resources, safeguarding our nuclear arsenal, and promoting an American energy policy that creates jobs and puts America first."
After exiting the 2016 Republican presidential nomination contest, Gov. Perry endorsed his fellow-Texas Sen. Ted Cruz. While his relationship with Mr. Trump at the time had not yet matured to what it is today, it was a far cry from how it started. Immediately after he announced his bid for the Republican nomination at Trump Tower in June, 2015, Gov. Perry called him a "cancer on conservatism" that needed to be "cut out before it metastasized."
However, now with several major cabinet and advisor posts filled, it has become clear that President-elect Trump intends to nominate and appoint one of the most conservative administrations in history. As far as Gov. Perry's record, he led the state of Texas into an economic boom even as the rest of the country continued to suffer as a result of the Great Recession.
Not only did Texas experience stronger job growth than the rest of the nation from 2000 to 2013, but according to the Federal Reserve Bank of Dallas it led the nation in creation of jobs at all pay levels, too.
"Texas has also created more 'good' than 'bad' jobs," the Fed report stated. "Jobs in the top half of the wage distribution experienced disproportionate growth. The two upper wage quartiles were responsible for 55 percent of net new jobs. A similar pie chart cannot be made for the rest of the U.S., which lost jobs in the lower-middle quartile over the period."