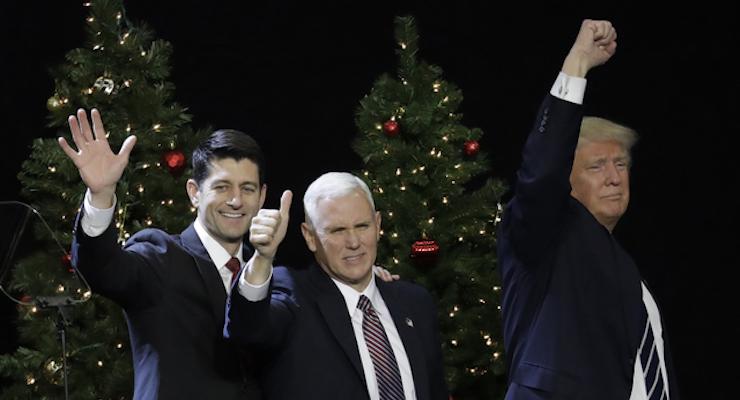 People braved the cold in the afternoon waiting to see to President-elect Donald J. Trump and Vice President-elect Mike Pence in West Allis, Wisconsin, on Tuesday. At event that took place at the State Fair Exposition Center as part of his Thank You America Tour 2016, the incoming president praised Republican House Speaker Paul Ryan, whom he compared to a "fine wine."
"He's like a fine wine. Every day that goes by I get to appreciate his genius more and more," President-elect Trump said. Flanked by enormous Christmas trees behind a podium that boasted "Merry Christmas" in large letters, he thanked supporters for the victory in The Badger State, the first for any Republican presidential candidate since Ronald Reagan in 1984.
"I will never forget you and I will never ever stop fighting for you."
Mr. Trump and his running mate have been traveling around the country holding rallies as part of the unprecedented tour, a first for any president-elect. His speech was preceded by Speaker Ryan, as well as Wisconsin Gov. Scott Walker and the soon-to-be White House chief of staff, Reince Priebus.
Join #PEOTUS Trump & #VPEOTUS Pence live in West Allis, Wisconsin! #ThankYouTour2016 #MAGAhttps://t.co/vU5EPIYKUc pic.twitter.com/MVvRxKWmrm

— Dan Scavino Jr. (@DanScavino) December 14, 2016
In his speech, which began by mocking the recount in Wisconsin, he credited all three Wisconsin Republican natives and his running mate for helping him win the state on November 8. The New York business said the Democrats were truly behind the recount, which resulted in him gaining more votes over Hillary Clinton. Green Party candidate Jill Stein was the public and legal face behind the recount effort, but no one believes she had the ability to mount such a challenge and raise the money necessary.
During the recount, Dr. Stein raised more than twice the amount of money that she raised throughout the entire campaign and only challenged in states Clinton lost.
[brid video="84724″ player="2077″ title="LIVE Stream PresidentElect Donald Trump Rally in West Allis WI 121316″]