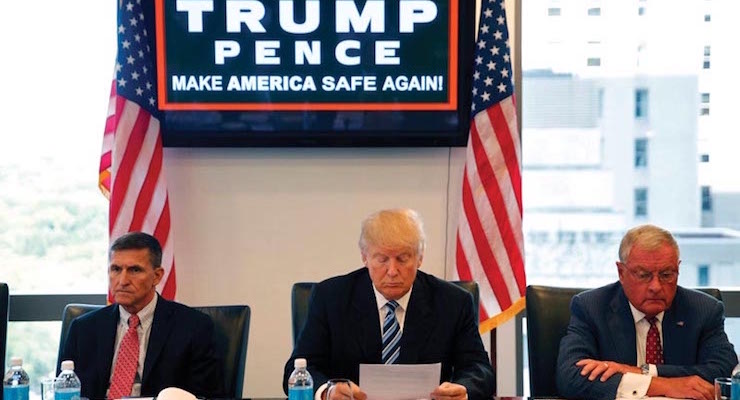 President-elect Donald J. Trump intends to name retired Army Lt. Gen. Keith Kellogg and Monica Crowley to top posts on the National Security Council. People's Pundit Daily has learned Lt. Gen. Kellogg will be tapped for chief of staff and executive secretary of the National Security Council and Monica Crowley for senior director of strategic communications for the National Security Council.
"The United States is an exceptional country and these are two exceptional individuals who have agreed to fulfill the president-elect's pledge of putting America first once again," retired Lt. Gen. Mike Flynn, who was named national security advisor-designate, said in a statement. "I am honored to have General Kellogg and Dr. Crowley on the National Security Council team."
Lt. Gen. Kellogg served in the 101st Airborne Division and as a special forces adviser to the Cambodian Army during the Vietnam War. In 1996, he was named commander of the 82nd Airborne Division and rose to the rank of Lieutenant General. From 2003 to 2004, after the invasion of Iraq, he helped lead the Coalition Provisional Authority and served as chief operating officer for the CPA, the transition government.
Upon retiring from active duty, Lt. Gen. Kellogg joined Oracle Corporation as an adviser to its homeland security division and he makes the fourth general to be named to the new administration. In addition to Lt. Gen. Flynn, President-elect Trump thus far has nominated retired Marine Gen. James Mattis for secretary of defense and retired Marine Gen. John Kelly for secretary of the Department of Homeland Security.
"I am honored to not only be a part of this historic administration but also to be serving with General Flynn and K.T. McFarland, who are widely respected as some of the most experienced and strategic national security minds," Lt. Gen. Kellogg said in a statement. "Together, with the incredibly talented Dr. Crowley, the NSC will help lead President-elect Trump's national security agenda."
Ms. Crowley, a contributor at Fox News, worked under President Richard Nixon as foreign policy assistant and communications director. She has been an editor and contributor at The Washington Times and will now work under Gen. Flynn.
"I am deeply honored, humbled and grateful to be asked by the president-elect to join the extraordinary national security team he is assembling," Ms. Crowley said. "With vision, courage and moral clarity, he is committed fully to re-establishing America's singular place in the world. He is also committed to selecting the best people for the jobs of keeping the American people safe and the country secure. It will be a great privilege to serve with them."
A FOX News spokesperson said her contract was terminated following the announcement. She stepped down from both positions at The Washington Times in the wake of her appointment, executive editor Christopher Dolan told POLITICO.