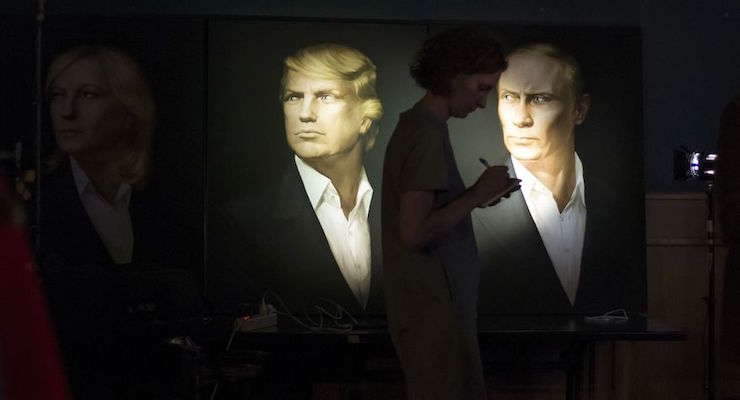 FBI Director James Comey and Director of National Intelligence James Clapper agree with the CIA claim that Russia interfered with the U.S. election, according to Reuters and The Washington Post. Further, the agency heads now allegedly agree the hacking of Democratic organizations, including the Democratic National Committee, was aimed at helping President-elect Donald J. Trump defeat Hillary Clinton.
The reports, which represent a reversal of positions taken by both Comey and Clapper only days ago, come a day after President Barack Obama vowed to respond and take action against Russia. Mr. Obama allegedly knew about the hacking since mid-2015 but did nothing with the information he was supposedly given because he believed Mrs. Clinton would win on November 8.
If true, the next question would be whether the leaking in fact changed minds. With the exception of Fox News and independent online news outlets, the mainstream media largely ignored the revelations in WikiLeaks. The initial DNC leak before and during the Democratic National Convention in Philadelphia exposed several anchors and journalists were corrupt and colluding with the Democratic Party to push narratives and help Mrs. Clinton.
At CNN, which colluded with the Clinton campaign to help the former secretary of state to defeat both Sen. Bernie Sanders (here) and President-elect Trump (here), anchor Chris Cuomo actually told viewers that it was illegal to go to the WikiLeaks website and read the material.
He erroneously claimed American voters were only legally permitted to view or hear of the leaked information through CNN and other news outlets.
The Russian hacking plot, which initially insinuated voting machines were compromised and vote totals were changed, is the latest in a long and growing list of excuses for why Mrs. Clinton lost to President-elect Trump in an Electoral College landslide. In fact, one of the directors now allegedly in agreement with the CIA assessment, FBI Director Comey, was the first scapegoat for the loss.
Democrats, including an official post-mortem given to donors on a conference call by the Clinton campaign, claimed Director Comey's decision to reopen and then close the email investigation cost Mrs. Clinton the election. Racism and sexism followed, preceding the unsubstantiated charge that voting machines "could" have been hacked. The recounts that were initiated by Green Party candidate Dr. Jill Stein not only turned up more votes for President-elect Trump in 2 of the 3 states but also uncovered massive voter fraud in the Democratic stronghold of Wayne County in Michigan.
"The aggregate data just don't support the myriad 'Why Clinton Lost' excuses," said PPD Editor and Polling Director Richard Baris. "For starters, support for Donald Trump fell for several days following the Wikileaks dump of John Podesta's emails. The reality is that President-elect Trump was ahead of Mrs. Clinton more than he was behind in our national and battleground state tracking polls."
While the result of the presidential election was a shock to most of the political and media establishments–not to mention those who hang on their every word–it wasn't to our readers. The People's Pundit Daily (PPD) U.S. Presidential Election Daily Tracking Poll and PPD Battleground State Polls were the most accurate surveys in 2016, and it wasn't even close.
The final PPD Keystone State Battleground Poll released on November 6 found Donald Trump taking 48.4% of the vote to Hillary Clinton's 47.8%, a statistical tie that nearly nailed the vote exactly.
The final results: Mr. Trump got 48.8% of the vote to 47.6% for Mrs. Clinton. It doesn't get much closer than that, particularly in a state Republican presidential candidates have failed to carry for roughly 3 decades. In Florida, where we are based, the final PPD Sunshine State Battleground Poll found Mr. Trump leading by 2 points. He won by about 1.4%.
In Michigan and Wisconsin, the final PPD Battleground State Polls found the two candidates tied but leaning to the Republican nominee by less than 0.5%. In Colorado, the final PPD Rocky Mountain Battleground State Poll found Mrs. Clinton leading Mr. Trump by 3 points, 48% to 45%. She won by 3 points, 47% to 44%. The final PPD Tar Heel State Battleground Poll found Mr. Trump leading by 3 points, 49% to 46%. He won by 4 points, 51% to 47%.
"The entire political class, Wall Street and their corrupt media sycophants couldn't drag Mrs. Clinton over the finish line because she didn't have a message to working class Americans," Baris said. "President-elect Trump didn't break Ronald Reagan's 1984 record among working class voters and flip blue states in the Rust Belt because of WikiLeaks. He did it against all odds and the world because he was their voice against an elitist class embodied by Mrs. Clinton."
"End of story."
Russia has always tried to influence US elections. Why did Obama & Hillary underestimate Russia? Why did liberals mock Romney's warning?

— Richard Grenell (@RichardGrenell) December 10, 2016
In truth, Russia and other nation-states, most being major regional powers, have attempted and succeeded to influence U.S. elections in the past. In 2008, the Chinese government intervened with an aim to help then-Sen. Barack Obama defeat Sen. John McCain.