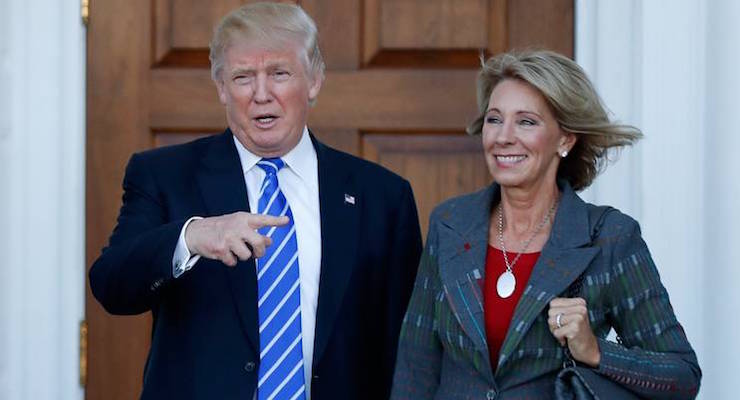 Betsy DeVos, President-elect Donald J. Trump's nominee for education secretary, will face questions from the most liberal Democrats in the U.S. Senate.
On Tuesday, Mrs. DeVos will step into the spotlight before sitting in the hot seat to face off with the most leftwing members of the Senate HELP Committee. It will also be the first time she will speak publicly for the time on issues ranging from student loans to school choice. The Democratic names on the HELP committee include Sens. Al Franken, of Minnesota, Bernie Sanders, of Vermont, Elizabeth Warren of Massachusetts, Sheldon Whitehouse of Rhode Island and Tim Kaine of Virginia.
Ms. DeVos, a leader in the choice movement, education advocate and philanthropist, has pushed for national education reform for more than two decades. A Michigan native, she spent more than two decades helping unprivileged children gain quality education and advocating for school choice. DeVos served as the chairwoman of the American Federation for Children, whose mission is to "improve our nation's K-12 education by advancing systemic and sustainable public policy that empowers parents, particularly those in low-income families, to choose the education they determine is best for their children."
Yet, Massachusetts Sen. Elizabeth Warren claimed in a letter to DeVos that she lacked the experience to lead the agency.
"There is no precedent for an Education Department Secretary nominee with your lack of experience in public education," Sen. Warren wrote.
While it's true DeVos has never held elected office, Democrats' objections to Mrs. DeVos are less about her experience and more about their campaign contributions and ideological differences with her. Immediately after the president-elect confirmed the nomination, some of the party's biggest donating organizations let loose.
"The president-elect, in his selection of Betsy DeVos, has chosen the most ideological, anti-public education nominee put forward since President Carter created a Cabinet-level Department of Education," American Federation of Teachers (AFT) President Randi Weingarten said in a statement. "In nominating DeVos, Trump makes it loud and clear that his education policy will focus on privatizing, defunding and destroying public education in America."
As a matter of fact, charter schools are in fact public schools, by definition. Further, even a brief look at the group's recent press statements reveals they are in lock-step on leftwing issues far beyond those concerning education.
But Republicans on the Hill also feel the issue was litigated during the election and voters overwhelmingly made their decision, not only giving them the White House but full control of both houses of Congress. President-elect Trump made education reform an issue on the campaign trail, even repeatedly visiting inner-cities where he touted his plan to proliferate school choice programs.
"I share President-elect Trump's view that it's time to shift the debate from what the system thinks is best for kids to what moms and dads want, expect and deserve," Mrs. DeVos said in a prepared response.
Yet, knowing the tough questions she is sure to face, a review of her prepared remarks makes clear DeVos will unapologetically call for major reforms to failing public schools.
"If confirmed, I will be a strong advocate for great public schools," she says. "But, if a school is troubled, or unsafe, or not a good fit for a child – perhaps they have a special need that is going unmet — we should support a parent's right to enroll their child in a high quality alternative."
"It's really pretty simple."