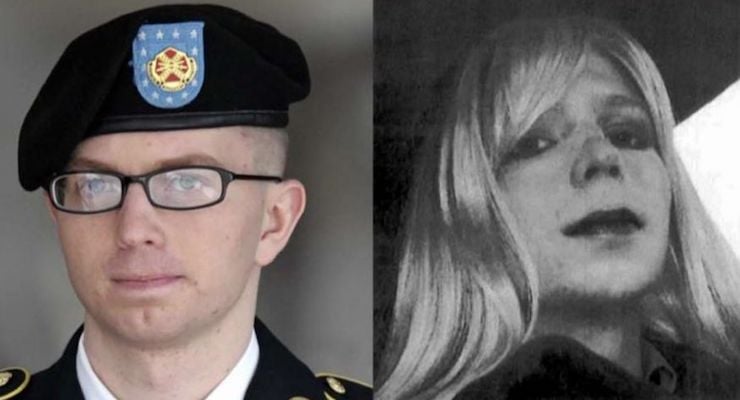 President Barack Obama commuted Chelsea Manning's 35-year sentence for leaking U.S. Army documents to WikiLeaks, making May 17, 2017 his release date. The release of the former solider is a stunningly hypocritical development at a time Democrats are crowing about protection of national security and condemnation of the anti-secrecy group.
In 2010, Bradley Manning was arrested and later revealed after being convicted of espionage that he identified as a woman. Manning has served more than 6 years into his sentence at the military prison at Fort Leavenworth, Kansas for leaking classified government and military documents to WikiLeaks. The Obama administration originally weighed whether the U.S. government would seek the death penalty for Manning.
House Speaker Paul Ryan, R-Wis., said Mr. Obama's decision was "outrageous" and Manning's leak was an act of "treachery."
"Chelsea Manning's treachery put American lives at risk and exposed some of our nation's most sensitive secrets," he said in a statement. "President Obama now leaves in place a dangerous precedent that those who compromise our national security won't be held accountable for their crimes."
The Department of Justice also objected to the decision, responding with a request of two year sentence. They said employees of the U.S. government are entrusted each day with sensitive classified information and must be taught a lesson to prevent the loss of further life.
"They must understand that disclosing such information to persons not authorized to receive it has severe consequences," prosecutors wrote in a sentencing memorandum filed this month.
The White House said that Manning is one of 209 inmates whose sentences President Obama is commuting only a few short days before leaving office. He is also pardoning 64 people, including retired Gen. James Cartwright, who was charged with making false statements during a probe into disclosure of classified information.
Meanwhile, WikiLeaks founder Julian Assange finds himself in a precarious situation.
Last week, Mr. Assange said on that he would give up his sanctuary at the Ecuadorian Embassy in London if Barack Obama showed "clemency" to the whistleblower-leaker (debatable). He has been held up in the Embassy for more than four years to avoid extradition to Sweden, where he faces sexual assault charges. But he could also face possible espionage charges in the United States.
"If Obama grants Manning clemency Assange will agree to US extradition despite clear unconstitutionality of DoJ case," WikiLeaks tweeted.
There was no word on whether or not he will be making good on that compromise. But the group did tweet out another statement claiming to be from the founder and editor, which thanked supporters.
"Thank you to everyone who campaigned for Chelsea Manning's clemency," WikiLeaks founder Julian Assange said in a message posted to Twitter. "Your courage & determination made the impossible possible."
In a conference call with White House reporters, an official said the decision to grant a commutation to Manning was not influence anyway by Mr. Assange.