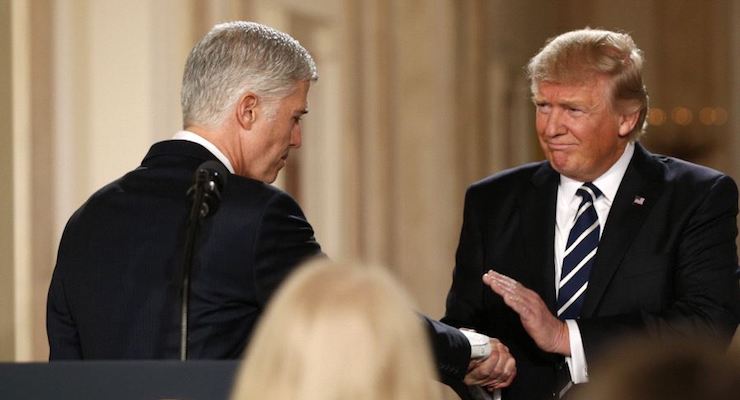 President Donald J. Trump on Tuesday nominated Judge Neil Gorsuch for the U.S. Supreme Court. Democrats immediately pounced on the decision with preprepared statements they would've released regardless of whom the president nominated.
Judge Gorsuch, 49, who serves on the U.S. Court of Appeals for the 10th Circuit in Colorado, was appointed in 2006 by President George W. Bush. In July 2006, the U.S. Senate confirmed him unanimously by a voice vote, in which had the support of the very Democrats who are now objecting to his nomination.
SCOTUS justice must stand up to a Pres willing to bend the Constitution. Serious doubts on Judge Gorsuch's ability to meet this standard.

— Chuck Schumer (@SenSchumer) February 1, 2017
Senate Minority Leader Chuck Schumer, D-N.Y., was on the Senate Judiciary Committee that held hearings for Judge Gorsuch. That committee was staffed by others senators still in office now, as well as the "Lion of the Senate," the late and very liberal Massachusetts Sen. Ted Kennedy. Other notable current members of the Senate who were on the committee and supported President Trump's Supreme Court nominee were Dianne Feinstein, D-Calif., Dick Durbin, D-Ill., and Patrick Leahy, D-Vt.
Ironically, former Vice President Joe Biden, who was then a senator from Delaware, was also on the committee and voted to confirm Judge Gorsuch.
[social-media-buttons]
"The qualifications of Judge Gorsuch are beyond dispute," President Trump said. "He's a man of integrity and a man the country really needs. I only hope that Democrats and Republicans can come together for one, for the good of the country."
Here is the Video of 2006 were 45 Democrats Helped Unanimously Confirm #NeilGorsuch (incl. @SenSchumer, and Obama) pic.twitter.com/yH7xoiOWtA

— The Vice President (@MikePenceVP) February 1, 2017