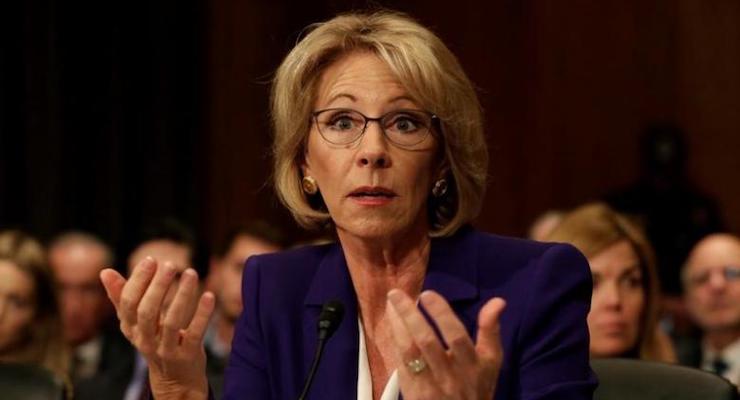 UPDATE: The Senate early Friday broke a Democratic filibuster blocking the confirmation of Betsy DeVos as the next education secretary, voting 52-48.
Senate Republicans early Friday moved to break the Democratic filibuster attempting to block the confirmation of Betsy DeVos as education secretary. Democrats have sought to block Mrs. DeVos, as well as nearly all of President Donald J. Trump's Cabinet members in an unprecedented obstruction that has caused the breakdown of etiquette and rules in the U.S. Senate.
Republicans Senate chairman suspended rules after Democratic members boycotted committee votes on the nominations of Jeff Sessions, Scott Pruitt, Steve Mnuchin and others. However, DeVos is the only Cabinet pick who is in danger of not eventually being confirmed due to party defections.
DeVos is a school-choice champion, education advocate and philanthropist, who has pushed for national education reform for more than two decades. The Michigan native spent more than two decades helping unprivileged children gain quality education and served as the chairwoman of the American Federation for Children.
The group's stated mission is to "improve our nation's K-12 education by advancing systemic and sustainable public policy that empowers parents, particularly those in low-income families, to choose the education they determine is best for their children."
But this week Sens. Lisa Murkowski, R-Alaska, and Susan Collins, R-Maine, both announced they would not vote to confirm DeVos, putting her confirmation in peril. While the official statement from the senators claimed to have concern over her experience, they are heavily funded by teachers' unions, who are vehemently opposed to her nomination.
"The president-elect, in his selection of Betsy DeVos, has chosen the most ideological, anti-public education nominee put forward since President Carter created a Cabinet-level Department of Education," American Federation of Teachers (AFT) President Randi Weingarten said in a statement. "In nominating DeVos, Trump makes it loud and clear that his education policy will focus on privatizing, defunding and destroying public education in America."
Vice President Mike Pence will serve as the tie-breaking vote when the nomination goes to the full Senate, after every single Democrat announced they would also vote not to confirm.
[social-media-buttons]