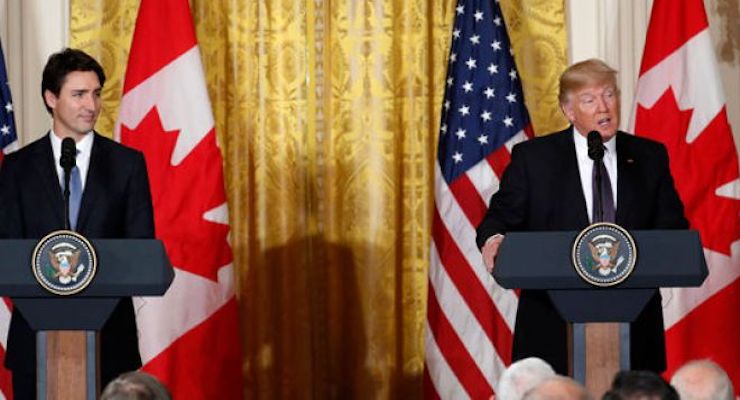 President Donald J. Trump and Canadian Prime Minister Justin Trudeau spoke about trade and security at a joint press conference in the East Room on Monday. The two leaders, who have been at odds over refugee resettlement, were expected to answer questions about a number of issues, including U.S.-Canada trade relations, immigration and the environment.
Despite the best efforts by the media, the press conference was friendly. The first question posed asked how the leaders see their relationship considering their difference on immigration and trade. President Trump said his administration would have a "great relationship with Canada" and that they both have tough stances on terrorism, adding the two leaders will work to secure their borders while keeping them open for trade and technology.
Prime Minister Trudeau said Canada has tried to keep security in mind as it relates to immigration. When asked about refugees and if the northern border was secure, President Trump said " you can never be totally confident," but the Department of Homeland Security is doing a great job of stopping criminals, drug lords and gang members seeking to exploit the border.
The two men took questions after the president held a Business Round Table with women CEOs at the White House. As a result of the meeting, Prime Minister Trudeau announced the formation of the United States-Canada Council for Advancement of Women Entrepreneurs and Business Leaders. The aim is to "promote the growth of women-owned enterprises and to further contribute to our overall economic growth and competitiveness, as well as the enhanced integration of our economies."