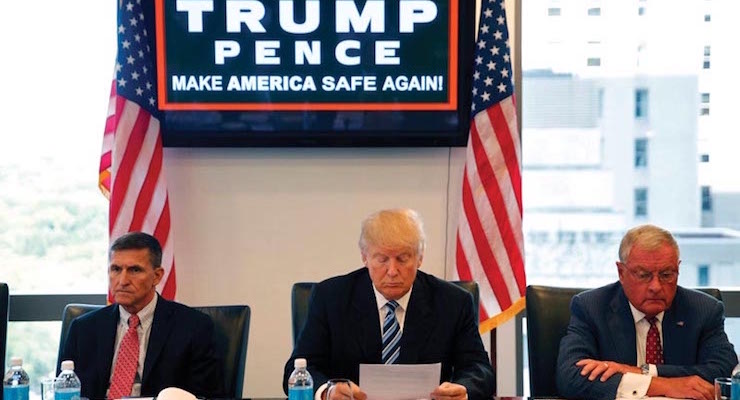 Lt. Gen. Michael Flynn has resigned after reports he misled Vice President Mike Pence over conversations with a Russian ambassador, making him the shortest official to serve in the post in U.S. history. Army Lt. Gen. Keith Kellogg, who was tapped for chief of staff and executive secretary of the National Security Council, is serving as acting national security advisor until President Donald J. Trump appoints a permanent successor.
Here's are the names of the candidates on President Trump's shortlist to replace Lt. Gen. Flynn.
Lt. General Keith Kellogg
The pick would make sense. Lt. Gen. Keith Kellogg worked with the transition team, the White House team and is currently serving as the acting national security advisor anyway.
Lt. Gen. Kellogg served in the 101st Airborne Division and as a special forces adviser to the Cambodian Army during the Vietnam War. In 1996, he was named commander of the 82nd Airborne Division and rose to the rank of Lieutenant General. From 2003 to 2004, after the invasion of Iraq, he helped lead the Coalition Provisional Authority and served as chief operating officer for the CPA, the transition government.
Vice Admiral Robert S. "Bob" Harward Jr.
Word is, Vice Admiral Robert Harward, a former Navy SEAL, is the leading contender for the job. Vice Admiral Harward formerly served as the Deputy Commander of the United States Central Command, under the leadership command of General James Mattis who now serves as the Secretary of the Defense Department.
Vice Admiral Harward also served as the Deputy Commander of U.S. Joint Forces Command and previously commanded Combined Joint Interagency Task Force 435.
General David Petraeus
The man who needs no introductions. The hero of the Iraq War and former director of the Central Intelligence Agency was coincidentally prosecuted after he refused to go along with the infamous (and untrue) Benghazi talking points.
However, he would still be on probation for exposing classified information to his mistress, who also held a top secret security clearance, until April. It is well-known that President Trump remains highly impressed with Gen. Petraeus, who is hated by the left for his role in the Iraq War.
God forbid you win a war for the country anymore.